For some reason the media loves to share all the "bad boy" sports stories. It must sell or I guess they wouldn't put it out there. Funny that pretty much everyone I know wants to see more of the good guys. I believe there are more positives than negatives and today I want to share a personal one.
A while back my husband Jonathan was in the local Olathe Quik Trip and saw a gentleman with a Hog on his cap. Growing up die-hard Hog fans, wherever we go we find other Hogs. Quite naturally, Jonathan said "Go Hogs" and engaged in conversation. The gentleman told him that his son was on the UA baseball team. Upon learning that I can only imagine the twinkle in Jonathan's eyes. As a boy from Arkansas who loves his Hogs and baseball, he must have been in heaven. Jonathan, social media guru that he is, looked up the son.
The son is Bobby Wernes. Jonathan started following him on twitter. Bobby followed back and responded. Soon they started texting. Jonathan wanted Rachel to meet Bobby, so on one of Bobby's trips home they met up for ice cream. Jonathan came home and shared with me how impressed he was with this young man. Not his baseball ability either. He was talking about his manners and how he engaged Rachel. Later in the year I too had the opportunity to meet him and his significant other. I was equally impressed.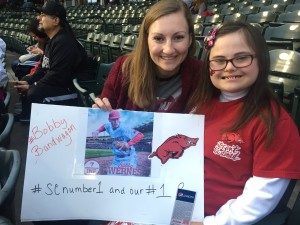 Last weekend we were able to go down to Arkansas for a couple of games. Rachel was able to sit in the family section at the games. We were able to connect with Bobby's significant other and she introduced Rachel to the RBI girls.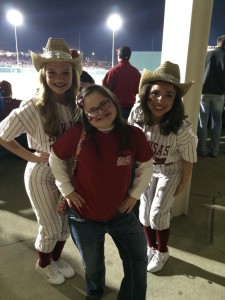 These are the cheerleaders dressed in baseball attire (sort of) who dance on the dugouts. Rachel has never seen a cheerleader she didn't love. She was on cloud nine. She met the baseball mascot Ribby.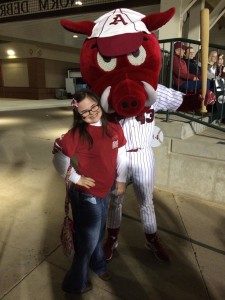 Previously, she has met the other live and inflatable mascots Big Red, Sue E., Pork Chop and Boss Hogs. More heaven for Rachel. We also had the opportunity to meet Bobby's family and some of the other players families.
Bobby's twitter profile says "God gives his toughest battles to his strongest soldiers." We liked that and we loved how he and his team mate Tyler Spoon draw a cross in the on deck circle before batting.
The Hogs played perennial powerhouse and number two ranked LSU. After winning the first game of the series, the Hogs lost game two and were beaten pretty badly. There is an area where fans and family gather after the games to speak to the players and to get autographs. Bobby came over and immediately found Rachel. Told her he was sorry for the loss but happy to see her. Engaged in conversation.  Signed her poster that she had made. Major smile. Then, Bobby talked to bright-eyed little boys and signed baseballs. It was late. They had lost. He, and all the other players, were not just polite – they were engaging.
The next afternoon the Hogs lost again. Bobby had played well both games. This was a close game though and sometimes those are harder to stomach. Bobby came over and immediately found his parents. He gave them both a hug. You could see that this loss was harder. Still, he found Rachel and chatted with her and then he went about the business of chatting with the other fans.
Bobby's Coach Dave Van Horn, has coached a ton of good baseball players. Friday he was quoted as saying that "Bobby Wernes is the best defensive players I have ever coached." Wow! The scouts are talking about where he will land in the draft. Earlier in the week he had a play that was Sports Center's number 1 in their "Top Ten Plays of the Day." He dazzled us with some of his plays while we were there, too.
So here we are, the Hog Crazy Mast family.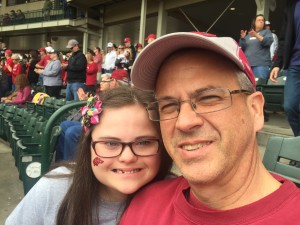 Parents are alums of the University of AR. We are hoping that Rachel will be a Hog too. Time will tell on that one.  Bobby Wernes is a college kid who is a great baseball player. Apart from us being Hog Crazed alums, he didn't know us. He didn't know Rachel.  But best I can tell Bobby Wernes represents one of the good guys. He is what's right with sports.
All the Masts are now on the #BobbyBandwagon. Hope you will be too. Here's to the good guys.