We live in a cynical world. There is little confidence in Congress to get anything done. People don't believe that their one voice makes a difference, but Rachel and I are both proof that it does. Consider what my own Congressman Kevin Yoder (R-KS) said following the vote to pass the ABLE Act:
"This bill has been introduced every year for the last eight years. Year after year families and advocates met with their representatives to explain the importance of this legislation and to advocate its passage. In 2011, as a new member of Congress, I met with Rachel Mast and her family to discuss her encouragement of my cosponsorship and support. Rachel, now a student at Olathe South High School quickly became a good friend, and her continuous advocacy of the ABLE Act, as well as other advocates across the country, is why it has passed today.
Sometimes we all can become cynical about the legislative process and the ability for real people to be heard in the halls of Congress. On a bipartisan vote today, we ensured that Rachel's voice and millions of other families' voices were heard."
During this season that we celebrate the birth of the One and considering the events of the past few days, I thought it appropriate to address this in my blog.
I could write about my own advocacy story today. I could write about some of the amazing people I met who have learned to advocate because they now have a child with Down syndrome. Today, I just want to honor the memory of one amazing person. I hope it will inspire you to do your part whatever that part is and to realize that one person can make a difference.
I don't remember exactly when I met Steve Beck. I met him before we started working on the ABLE Act back in 2006. His daughter Natalie is the same age as Rachel. We had quite a few discussions about inclusion and what was working or not working. My most vivid memories involve work on the ABLE Act though. Sitting around a kitchen table, a group came up with this idea that is now known as the ABLE Act. Steve is the one who championed it and stayed with it for eight years. He worked the hill and not just his own legislators. He joined us on a visit to our Senator Roberts office. Senator Roberts is on the Senate finance committee, and Steve wanted to help answer any questions that might secure his support. Eventually Senator Roberts signed on as an ABLE co-sponsor and has become a tremendous supporter. Steve made a lot of those visits.
I always loved hearing Steve talk about his family. His eyes brightened when he talked about either of his daughters or his wife.
The eyes are one of the ways we learn about the character of a person.  His twinkled when he spoke of his family. His deep love and devotion was vividly communicated in that twinkle. Steve's devotion was not just to his own daughter though. He worked on behalf of his local organization. He served on the National Down  Syndrome Society (NDSS) Board of Directors and had just been elected as the Vice President. He had chaired the Governmental Affairs arm of the board. He worked tirelessly on the ABLE Act for his own daughter, but he worked tirelessly on the ABLE Act because he believed it to be the right thing to do for all people with Down syndrome and disabilities. As I say, it was a labor of love and conviction.
On Wednesday, December 3 the ABLE Act passed the House of Representatives by an overwhelming 404-17 margin. Steve sat behind me in the gallery. I listened to him counting as it hit 218 which was the majority. He said it took 90 seconds. Like many of us he had tears of joy! We all celebrated that night.  It was appropriate his family was there to celebrate because they made sacrifices for him to champion this act, too.
Monday morning I got the call. I know those calls because I've had too many of them in my lifetime. I knew something terrible had happened because I could hear it in the voice of my friend who had called to let me know that we had lost Steve. Suddenly, unexpectedly Steve was gone. Still seems a little surreal that he is gone. As the Senate prepares to vote (time/date still pending), we all call and text one another with our cries of sadness, grief, disbelief and concern for Steve's lovely family. We all agree that we just need the Senate to go ahead and vote and send the bill to the President to sign into law so we can be sure that Steve's valiant and selfless efforts are rewarded.
Earlier this week, different Congressional Champions paid tribute to Steve Beck and his efforts to champion the ABLE Act. To honor Steve's memory and as a tribute to his hard work, Rep. Ander Crenshaw (R-Fl) who introduced this legislation filed  to change the name of the ABLE Act to The Stephen Beck, Jr. Achieving a Better Life Experience Act of 2014. I would say that is fitting. We in the Down syndrome community will call it the Beck Bill. Our friend Joe had been calling it that for years. I love this picture of the two of them from the night the bill was passed.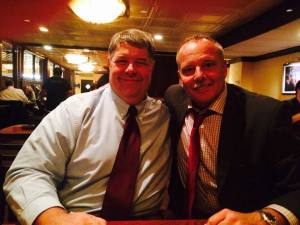 Can one person make a difference? Steve never liked to be the focus. He always deferred to and thanked the many people who worked hard on the ABLE Act. It is my hope and my prayer that his family and dear friends will treasure the many beautiful memories from great times with Steve. People who will never know him will benefit from the tireless work he did to create a more level playing field for individuals with Down syndrome.  Rest in peace my friend Steve. You are proof that one person can make a difference.