I'm a little late with my blog but a couple of weeks ago we did our annual NDSS Buddy Walk® on Washington.  Over 350 people, including 95 self-advocates, from across our nation, most at their own personal expense, descended on our nation's capitol to meet with their Members of Congress. Many took vacation or personal time. Many missed school or work. Some were Emmy winners while others were members of their home state's legislatures.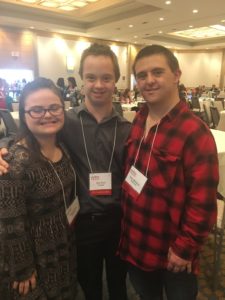 Some have been featured in commercials, videos and news articles and others have won many awards.  They had a variety of communication methods. Many were terrified and others were quite confident.  But on this NDSS Day on the Hill, when we came together to put forth a unified front for the Down syndrome Community, everyone was on a level playing field.  They were all there to make their voice heard on behalf of people with Down syndrome.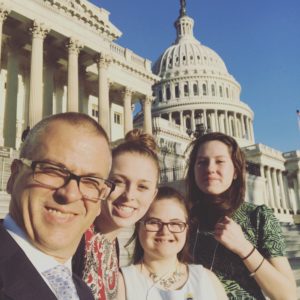 There's an old Baptist hymn that says God uses ordinary people.  Well,  at the #BWW2017 ordinary people became extra-ordinary in communicating their personal stories and reminding 535 of the most powerful people in the world that people with Down syndrome matter.
I was only able to spend part of the day with my daughter Rachel, my husband Jonathan and the nine other Kansas advocates who participated. As part of the leadership team for the event, I had the honor of joining some of these most extraordinary advocates at their other states' meetings. I was so impressed and proud.  I watched many of them find their voice. Everyone wasn't born talking like me.  Everyone didn't have the privilege of growing up in a 4-H Club in Joy, Arkansas and learning about advocacy and heading to the Hill for the first time as a 16 year-old participant in the Citizenship Washington Focus program. But shy, quiet, fearful people find their voices and make their voices heard when they understand the importance of their individual, personal story in shaping the future for people with Down syndrome.
I didn't get to witness all of this but I still have some favorite moments experienced by our Kansas delegation.
Rachel greeted her friend Senator Jerry Moran with "you look stunning today, Senator."                                   
Congressman Marshall showing Rachel the pink house he daughter drew that hangs in his office.
Rachel helping her buddy "Kevin Yoder" gather all of his NDSS awards.                                       
Rachel chasing down Senator Roberts in the hallway of the Senate office building and his bear hug when he realized his chaser was the one and only Rachel.  Her friends said they had never seen her move so fast.                              
Rachel insisting that Senator Moran, Congressman Yoder and their entire staff come see her in Julius Caesar at Olathe South
But my very favorite thing? Rachel's friends Allie and Hanna a living demonstration of inclusion working.  Allie and Hanna are two of Rachel's best friends and part of the group of girls from our church who I refer to as #bestgirlsever.  We invited Hanna and Allie to join us for the Buddy Walk®on Washington. They have been so involved in Rachel's life and have joined us on so many endeavors.  I also know that the key to the next generation is the Hanna and Allie's of the world. I told them I wanted them to make a bio just like all of our self-advocates do. A bio is a one-pager where you write about who you are, why you are advocating for people with Down syndrome and why the legislator should support individuals with Down syndrome. That was all I told them. I didn't know if they would want to share or if they would want to be in more of an observer role. Knowing them, I should have known they would want to be "fully included!"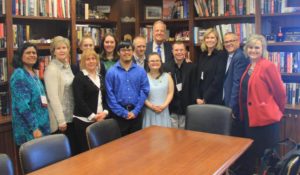 I was able to join the Kansas advocates for their first meeting of the day with Senator Moran. Different advocates shared information. Then, 17-year old Hanna told Senator Moran who she was and how she and Rachel knew one another. She said, "I am here advocating for my friend Rachel and others with Down syndrome because I think Rachel should be able to do the same things I have the opportunity to do. My generation will employee people with Down syndrome and include them in our lives. "
Allie, also 17 , then introduced herself. Then, she echoed Hanna's comments and added, "I have an uncle with a disability and I have heard my grandmother talk about how heartbreaking it was when he was not allowed to go to school and sent to separate programs. That made me really sad. Rachel is my good friend and I don't think it's fair that she might not be able to do the same things I do. So I am here advocating for her and others to be able to have the same opportunities I have."
Ordinary advocates matter. Inclusion works.  Trust me.
That's all.