Rachel is on a Paris kick. Not sure why since I don't think Hannah Montana or Lizzie McGuire were there. We spent 30 minutes looking for Lizzie McGuire's Halloween episode a few nights ago. SMILE!  She always says she wants to go to India because the Cheetah Girls did a movie there. One would think that with her love for Broadway and desire to live in a pink house in New York City, she would be looking at a Broadway theme for her room makeover (next summer.) Nope – Paris it is. Paris and Cheetah print to be exact. I'm working on that second part because my non-decorator brain is having trouble figuring out how to make that look … well, you get the picture. Anyhow, we're starting to look for some decor now.  She is taking "Technology of Sewing" this semester and they are making some pillowcases so we decided to get started on this Paris thing. We found this pretty fabric, and this is the pillowcase she brought home.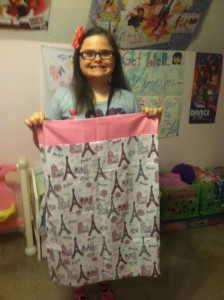 A few years ago, Rachel told us she couldn't learn to sew. Unlike her to say such a thing, I prodded.  I never found the answer but I think someone told her this because she thinks she can do anything. Granted, I think sewing will be difficult for Rachel because of the needed fine motor skills. Fine motor has always been her biggest struggle. But I told her if she wanted to learn, we would do our best to learn. My mom is an excellent seamstress. Me – not so much. I don't like to sew. When we were doing her schedule last spring, I went to the teacher and said "Rachel wants to take sewing…" Before I could finish the sentence she interjected and said, "I would love to have her. Sign her up!"  This teacher has had Rachel before. Rachel has a wonderful para in the class with her and I'm sure Ms. Brown helps quite a bit. Regardless, Rachel comes home and tells me what she is learning and she is proud.
Our latest breakfast kick is these fun parfaits.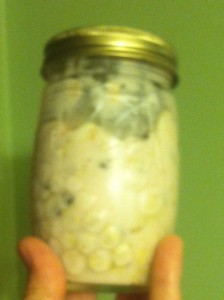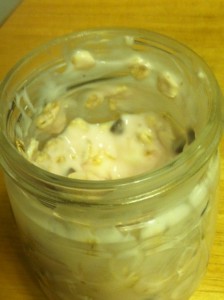 You take a small jar with a lid (this is a 16 ounce Kerr jar) and add 1/4 cup oatmeal + the flavor yogurt you like and the fixings (marshmallows, nuts, chocolate chips, raspberries, other fruit, etc.) Mix it altogether and screw on lid.  Allow to chill overnight or for several hours and presto.  I think it is better if you wait to add the fruit until you are ready to serve. This particular parfait is oatmeal, nonfat white chocolate cherry yogurt, 1 teaspoon chocolate chips, and a few marshmallows. Rachel loves cherries so she's adding some to the top. Yummy breakfast with some nutritive value!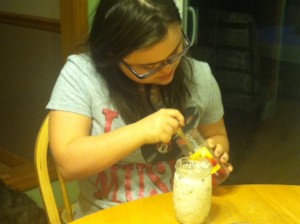 We have also done chocolate raspberry yogurt with white chocolate chips and chocolate yogurt with peanut butter chips plus the oatmeal of course. Another really good one was blackberry yogurt with blackberries added in the am. She had to have some chocolate chips and marshmallows too. Might try it and see if your family enjoys.