I went to the Hill last week. For my Rose Bud friends, that is not Joy Mountain but Capitol Hill. If you have followed my blog or know me at all, you know that I am passionate about advocating for individuals with Down syndrome and other intellectual disabilities. My pet legislation is the ABLE Act. Just in case you missed it, the ABLE Act is the Achieving a Better Life Experience Act. It is a bipartisan bill that quite honestly allows individuals with disabilities to have the opportunity to achieve their dreams by allowing them to save like all other Americans. You see, most Americans are told to save, save, save for their kids futures. When you have a child born with a disability you are told, do not save in your child's name. You are told you might need a special needs trust. A special needs trust is not so bad but it does cost thousands of dollars and you need an attorney to set it up. See any problems here? Why? Because most likely your child will need some type of government supports and there is an archaic law that says if your person with a disability has more than $2,000 in assets they may lose their government supports. So many families chose not to have jobs, not to have assets, not to live meaningful lives and are relegated to disability welfare. Talk about a disparity and lack of dignity and respect right here in America, well here it is.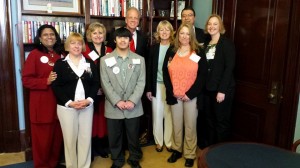 But now to the good stuff. This story won't be quite accurate but it will be close enough. About eight years ago some families went to Capitol Hill and met with a Congressional staffer with post it noes and a stack of handwritten notes about why we needed to change current laws so individuals with disabilities could live with dignity and respect and would not have to depend on disability welfare to achieve their dreams. I believe this is the fourth version of the bill that has gone to Capitol Hill. Each time the bill died before ever making it to the floor. Each time there was debate whether it should be a stand alone bill or should it ride through as part of another bill like the tax code overhaul. Each time the bill has been touted as the right thing to do and we have waited for CBO scoring so Congress could figure out how to offset money (that is what we are waiting on now.) They do not account for the money the government will not spend because a person is paying 80% of their own way instead of 2%.  We have overwhelming bi-partisan support for the ABLE Act with 406 combined house and senate co-sponsors.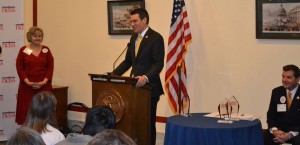 While our bill has still not made it to Capitol Hill (thankful for "A Bill on Capitol Hill" but it doesn't really do the process justice!), there was great excitement this week as we hit the Hill for the National Down Syndrome Society's Buddy Walk on Washington. About 300 of us descended on the Hill. We gave awards to Congressional leaders, family members and self-advocates. The self-advocates are the best part. We took a lot of pictures. We went to offices and we said, "Thanks for co-sponsoring the ABLE Act. Now, can you please sign this letter requesting that Congessional leadership take the ABLE Act to the floor for a vote?" We said to Congresswoman Lynn Jenkins (and others), "Won't you join 401 other senators and reps in supporting the ABLE Act?" She responded "Done!" It was a moment of elation that is hard to describe and that I wish each of you had the opportunity to experience.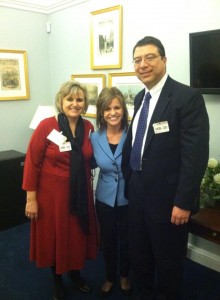 As offices extended a warm welcome, they wanted to know where was Rachel this year? She had been very busy and we decided she would skip this trip. They remember Rachel (self-advocates are the best) and her innocent quest for her pink house. They have fun with Rachel. They are good for Rachel and she is good for them. She sent them a letter with pictures thanking them for what they had done and reminding them of who she wants to be. She invites them to meet her friends at walks and at her high school next year. They are her friends. Therefore, they should meet her friends. Sometimes they come and sometimes they say the will come. Usually if they say they will come, they do because Rachel Nicole Mast does not forget what they said and she reminds them. Senator Pat Roberts met her in the spring. He told her he might like her to be in his campaign ads. She has not forgotten and mentions it from time to times.
Yes, a 14 year old girl who was born in Memphis and relocated to KS has been a leader in challenging Congress to do what is right and pass the ABLE Act of 2013. That should make you proud to be an American. With all of the jokes we make and all of our frustration with partisan politics, that should make us all proud. Proud that we do live in a country where we can approach our leaders and we can feel like we are heard.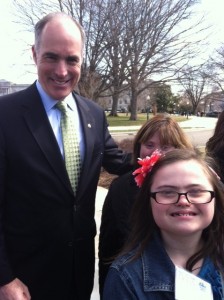 We believe that very soon we will see the vote for the ABLE Act and that President Obama will sign it into law this year.  Then, Rachel's Pink House will Start Construction. This is one time I'm hoping and praying we don't let Rachel and hundreds of thousands of individuals with disabilities down. We are almost there but we still need your help.
Congress:  Tell Congressional leadership to take the ABLE Act to the floor for a vote now.  #passtheABLEAct this year.
This message is approved by Rachel!