Sunday, February 7 – I know what I was doing 17 years ago today. It wasn't Super Bowl Sunday. It was Soup Sunday, the largest volunteer event for Memphis based non-profit Youth Villages.  I was the volunteer manager for Youth Villages.  I didn't make it to the event that day. My plans got a bit of a detour.
17 years ago this past Friday, February 5, I brought my 34-year old husband home from an overnight hospital stay. They had removed a colorectal tumor and even though he stayed overnight, it was still considered outpatient. The timing wasn't perfect because I was the volunteer manager for Youth Villages and Soup Sunday was a few days later but it would be okay. Once I got him home, I went to the office and tied up loose ends.  Then, I came home. That's when my plans changed again. My plans. 
The timing is never perfect to have cancer. It seemed a little less respectful that usual though because I was pregnant with our first baby. Many of you know the story. Many of you have received an email from almost every year since 1999 on that February 5 anniversary.  This year, I didn't send that email and I didn't blog about it. I reflected but the email and the blog have always been for me. I write as my own personal therapy. I also hope that maybe somewhere someone is inspired, motivated or educated. But in reality, my writing has always been for me.  When I got home from Youth Villages that day, my ob-gyn called to tell me that our unborn daughter had Down syndrome. He had the results of my amnio, the amnio I had chosen to have so that we could be prepared. He knew about Jonathan's surgery. He had the results for several days but had held on to them until after Jonathan's surgery. That February 5th day at about 6:15 pm, my world changed. My plans changed.
That was a hard weekend. February 5th was a Friday that year, too.  The weekend was unseasonably warm and the weather was dark and dreary. That Sunday morning (17 years ago today) I went out on my back patio and sat by myself with my Beagle Festas beside me and my journal in hand. I was so sad.  I didn't know anyone with Down syndrome. I was not very happy with God either. I didn't think the timing of all of this seemed quite right.  I felt very alone. But as I sat there on the patio, I honestly felt like I could hear God talking to me. My life verse, my favorite verse is Jeremiah 29:11, "For I know the plans I have for you, declares the Lord. They are plans to prosper you and not to harm you, to give you a hope and a future." I felt like I could hear God saying to me, "I know you are struggling. I know you are sad and angry. That's okay but keep trusting me. I really do have plans to prosper you."
So today, I'm not going to camp much on all that. You can read some of my former accounts of that day by clicking on the links at the bottom of this post. I'm going to focus on what I hope will give you inspiration and education and most importantly, hope. Rachel embraces life and inspires others to be hopeful and not just others with Down syndrome either.  Rachel has plans. 
Last night, Rachel had a Christian Youth Theatre Dance. The theme was "Dancing Through the Ages." We chose a 60's era costume so mom could practice her bouffant hair. Have I mentioned that I was a tomboy? I was much more interested in watching a football game than hair or make up, and I'm not sure that there was even a dance studio in White County when I was growing up.  Rachel needs bouffant hair and I was in tears and totally stressed out at costume parade for Hairspray because I have to do this bouffant hair. We've made progress.
See my plan was not to be doing bouffant hair but Rachel's love for the stage and dancing has caused my plans to change. When I went to pick her up, one of the other girls who is in Hairspray came and found me and said, "I just want to tell you that I'm so glad Rachel and I are in this show together. She is so sweet and kind. She is always an encouragement and positive. I love being with her." I smiled and thanked her. That young lady is pretty awesome herself.
Next week is show week for Hairspray.  Hairspray will be Rachel's 17th show.  She is in the ensemble as a Baltimore Citizen. Her focus and commitment would lead you to believe she is Tracy Turnblad!  She has plans to be in more plays and still dreams of being on Disney and living in New York City. She still has plans to live in the a pink house.
Before we left for the dance, I got an email from the school district. Rachel applied to be in the Early Childhood Careers Program in the district. Since she was old enough to say it, she has always said she wants to be a teacher. She is good with small children. The notices of acceptance were supposed to be issued on Friday, February 5th (love the timing.) I started getting antsy but the email came yesterday so the next two years she will get to work in a developmental preschool a few hours a day and have some classes to learn how to work in preschool. It is perfectly suited for Rachel. She was really excited and messaged several of her friends. Rachel's plan to be a teacher marches on.
Thursday we walked home from school. It was sunny afternoon but the wind made it a little chilly.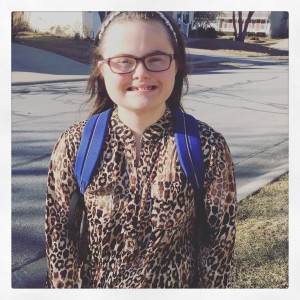 Snapped this shot of Rachel and had an email from a teacher telling me what great answers she gave on an assignment that day.
Maybe I didn't just think I heard the voice of The Lord on the February 7th day. Maybe I did actually hear it. All I know is that the voice was right. God's plans are not my plans but they are plans to prosper us. Maybe not in the way I had envisioned. But they are the best plans. Rachel is living proof.
A Glimpse of God's Grace (Featured in the Kansas City Star Faith Writer's Section)
I'm So Glad I'm Your Mommy, Rachel