Since my mother in law passed away, many people have inquired about some of her recipes. Many people read that we shared a love for cooking and shared recipes. I love that when I cook I am often reminded of where a particular recipe comes from. Vanessa's Chicken Enchilada's, sassy pretzels, cherry cheesecake, and many others all make me think of certain friends and relatives. Good thoughts.
This week is Shrek show week for us.  Rachel is part of the ensemble in CYT's Shrek the Musical. We don't see any family meals this week so I wanted to have a nice meal on Sunday. They had pork tenderloin on sale at the grocery this week so I had them slice mine into thick chops.  One of Jonathan's favorite newer recipes is Balsamic Pork Chops so I decided that would be a good Sunday lunch and his mom's creamed corn would be perfect with it.  I noticed that someone had mentioned her corn on Facebook. They had referred to it as her famous corn that she often brought for church meals. It is a very simple recipe that I first had at her house.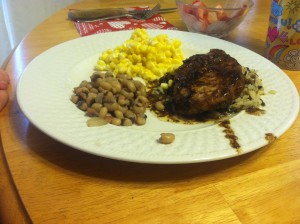 Susan's Creamed Corn
1 16 ounce bag frozen corn (I used Birdseye and don't think any other tastes as good!)
2 tablespoons butter or margarine
1/2 block of cream cheese (4 ounces) cut into squares.
Cook corn in saucepan as directed.  Drain corn and add butter. Stir in cream cheese and simmer on low for five minutes or until cream cheese melts stirring often. Serve. Yum yum.
Told you it was easy but since I learned to make it from her, I always think of her when I make it. Isn't that nice.
Here's the Balsamic Pork Chops – recipe came from Southern Living  though I have adjusted it a bit. Hope you enjoy.
Balsamic Pork Chops
1 package long grain and wild rice mix
1/3 cup flour
1 tsp. chopped rosemary (I mixed sage and basil)
½ tsp. salt
½ tsp. pepper (I used garlic pepper)
6 boneless pork chops (1/2 – ¾ inch thick)
2 T. butter/margarine
2 T. olive oil
2 garlic cloves pressed
1 (14.5 ounce) can chicken broth
1/3 cup balsamic vinegar
Cook rice according to package directions.
Combine flour and seasoning and stir.  Dredge pork chops in flour mixture.   Melt butter with oil in large skillet over med-high heat; add garlic and sauté 1 minute. Add chops and cook for 4 minutes on each side or until golden. Remove chops. (My garlic turned black but didn't taste burnt.  I used my electric skillet.
Add broth and vinegar, stirring to loosened particles from bottom of skillet.  Cook 6 minutes or until liquid is reduced by half.  Add pork chops and cook five minutes or until done.  Serve over rice.