The title is deceiving today. This and that would be a better title but I thought this might attract more readers! In addition to getting the Kansas ABLE Act passed this last week, Rachel went to the Down Syndrome Guild of Greater Kansas City prom. Rachel went with her friend Ryan who also accompanied her to her high school Winter Dance a few months ago.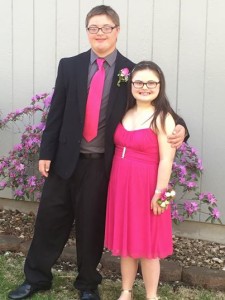 They are cute together. There was a sweet group that made the journey to the event together. Here is one of my favorite pictures of the girls.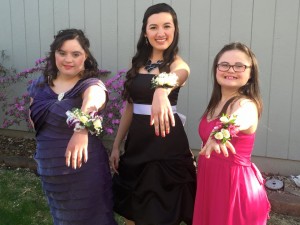 And out of 700 people, Fox interviewed Miss Rachel about her first prom. No doubt she'll have more proms but clearly she enjoyed this one. DSG Prom on Fox. If you didn't know before, now you do. Rachel is a "happily ever after" kind of gal! Must have been picked up by some national media because a friend from Arizona let me know that she saw it on the news there!
A few weeks ago, I posted about Rachel's High School's participation in the school district wide Spread the Word to End the Word activities. This week the district features the events of the week on the home page of the district's website. Great article about great activities about some super awesome folks.
"What I love most is that (this campaign) is a combined effort using students with diagnosed disabilities as well as those considered typical to plan a program to make people aware and get them to make a pledge to be part of the change," Olathe South parent Jawanda Mast said.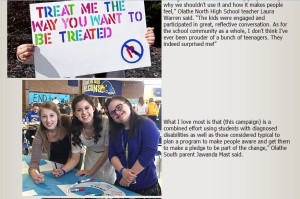 I love that we learn so much from our students. Across our district, they are the ones who made this work. Read more here – Eliminating the R-Word.
I often say that nothing is perfect. As we all navigate this journey called of life and those of us with loved ones with Down syndrome and other disabilities navigate the world of disability alphabet soup, these are some of the good things. Today, I smile.