Just a little glimpse at Rachel's last couple of weeks. A couple of days ago, my blog "Paralyzed By Fear" popped on my Facebook timeline. Last week during Rachel's CYT show "Hairspray, Jr." someone wanted to know how Rachel got into theater and I told that story. Rachel is courageous and her life is a constant reminder to me to "always have courage and be kind" (Quote from Cinderella's Mom that Rachel loves.) So just a glimpse of Rachel's past few weeks of doing life.
Last night, Rachel rocked the stage at the 2nd Annual Inclusion Connections Fashionability  Fundraiser. Inclusion Connections is an Olathe based non-profit committed to using a peer mentorship model and community focused programming to advocate for and serve individuals with developmental disabilities. "As our members and peers form real friendships, our community will become more inclusive and disability-friendly. Inclusion Connections' vision is to bring real and lasting change in the hearts and minds of our community."  They offer classes, social activities, fitness classes and more and are working on employment issues. Typical peers are always a part.
Rachel has great schmoozing skills and she loves the stage so a Fashion Show is a perfect venue for her. And she was definitely on last night.  The prevalent Facebook comments were "I love her enthusiasm."  Others said, "I love her zest/zeal for life," "She rocked it" and "She knows how to work a runway." New York here she comes  – one way or another. We are thankful for such opportunities in our world.
It is one of my favorite fundraisers. Not a lot of glitz but just a sweet mission centered fundraiser.  Did I mention that I've done a fair amount of fundraising in my many lives? Did I mention that I love, love, love mission centered fundraising? And I love anytime I see Rachel and so many others exuding confidence, poise and their zeal for life. We could all take lessons.
We love Christian Youth Theater. Rachel loves the stage. The stage loves her. Last week was "Hairspray, Jr." Rachel loves the show "Hairspray" almost as much as "Shrek" and "High School Musical!" Through CYT she has had the opportunity to shine. I love many things about CYT but one of the things I really love is the relationships, and not just for Rachel. Honestly, some of our best friends in Kansas City are because of CYT.
Something else I really love is how our students learn about working together and being people of good character. This was the first show for one of our cast members with Down syndrome. Often we have cast members who need a little extra help and not just those with disabilities! Anytime a cast member needs a little extra help making sure they are on the right side of the stage or have other needs, we find a peer to assist. Not one, not two but at least three or four cast members always wanted to be that peer who helped. Not just on stage either. When someone needed extra help with make-up, or a costume, they were there. They take care of each other. That is a treasured life skill.
Then, there's this video of Rachel and her dance partner Sammy. Sammy and Rachel were a great pair. Sammy is a great encourager and says that Rachel is always positive.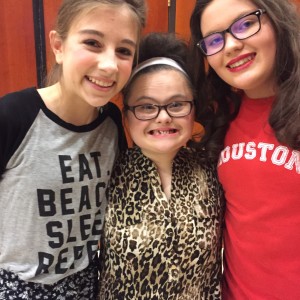 Sammy (left), Rachel and sweet friend and cast member Hope.
Thank you in advance for appreciating my newly acquired "bouffant hair styling skills."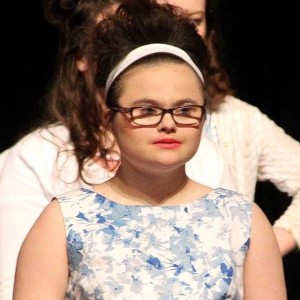 Hairspray was a fun show!
Then, there are these. Everyone who knows me knows that I LOVE handwritten notes. These notes were from some other cast members and one from a friend who came to watch and support Rachel.
I'm thankful for all of those who fully embrace the concept that everything should be accessible. Thank you Stevie Wonder for reminding millions of that at the Grammy's earlier this week. I'll be blogging about that next week!
I'm glad on that February day when Rachel auditioned for her first show that I had the courage to let her pursue her dreams.  I continue to take lessons from her on courage. And I get to have a lot of fun along the way too!