Rachel has been anticipating this day for a while. She has been giddy about bringing home the simulated baby from Parenting and Child Development Class. Jonathan and I knew this would be a great real life type learning experience.
Everyone knows Baby Sally and most everyone knows Marisol. Rachel often reminds me that she is a good mom to them and she is. She also reminds me that she knows how to take care of "bebies" because she took a Babysitter class. Indeed she did and did well. She takes her child care experiences very seriously. Some parents might take lessons from her.
I wish I could capture her facial expressions which have expressed joy, frustration and fear. Sounds a lot like a real mom. I met her at school and her case manager was with her carrying the baby car seat with Baby Sarah Nicole in it.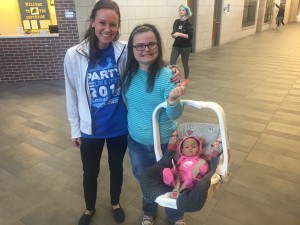 The baby's name is Sarah but Rachel added the Nicole because that is her middle  name. I told her I wasn't carrying the car seat. She had to to that.  She said it was heavy. It is but this is a real experience. Off we went.  Rachel started out thinking this was great fun. I do think she enjoyed the experience but it was truly a reality check for her. After the baby's first episode of crying, Rachel held her and rocked her for a while. This was all in the first hour.
The next crying episodes were met more with a look of fear like "why won't she stop crying." In the beginning if I offered to give assistance, I was turned away but as the evening progressed my assistance was even solicited!
She had a spot just for Baby Sarah Nicole to hang out with Baby Sally and Marisol. It was really cute to listen to her talking to them about their new sister.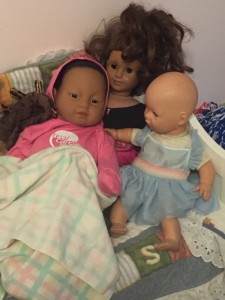 I jotted down some of Rachel's thoughts and thought I would share them here.
This was hard.  It hurts my arm to carry the baby car seat. I will say that Baby Sarah Nicole is heavy!
I was hungry and need my food and the baby was crying.  I wanted to eat. I didn't like that. In fact when dinner was ready, Baby Sarah Nicole was fussing and Rachel started to put her down to come and eat and we had to stop her. She interrupted Rachel's dinner three times.
She is heavier than Baby Sally.
I had a hard time keeping her head stable.
I was afraid I would hurt the baby when I tried to burp her.
Sarah Nicole's pants are hard to get off and on.
I thought I would hold her and play with her like Baby Sally.  Ms. V said we couldn't dance with the baby.  She said the baby always had to be with me.
Baby Sarah Nicole woke Rachel at 5:40 am crying and then again at 5:50. Rachel got up and got the baby and comforted her though.
I think this was harder than Rachel thought it would be. Her expression when we told her she couldn't leave the baby so she could eat was classic. Her look of "what do I do?" when she couldn't get the baby to stop crying and her not wanting to put the baby down in the beginning was very realistic. It was very much like a new mom. My observation was the hardest thing for Rachel was keeping the baby's head stable. We had to remind her about the head frequently. She told us that was hard. It was hard because she had to try to feed her or move her or diaper her and keep her head supported. That can be hard for anyone.
Rachel loves little children and is pretty good with them. In fact she is hoping to work in the school district's Early Childhood Careers Program the next two years. She went on a tour of the program on Monday. Tomorrow she will give her book report in Parenting and Child Development on "The Very Hungry Caterpillar." This is one of the puppets she made for her report.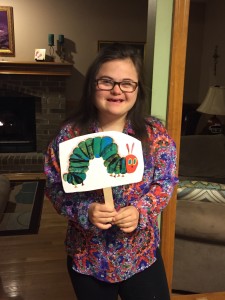 Overall I was impressed with Rachel's childcare.  Rachel has always talked about wanting to get married and be a mom. Last night she said, "I don't think my husband and I will have any children." That says a lot but perhaps the most telling remarks are from Baby Sally's perspective. According to Rachel, Baby Sally didn't like this the baby waking at 5:40 am. "Baby Sally likes to get up when I get up and this disturbed her."  She went on to say that while Baby Sally loves Baby Sarah Nicole, she does not like her waking her so she is happy she won't be back tonight.