This weekend we were able to travel to our beloved Fayetteville, Arkansas to watch our Hogs in the College World Series Super Regionals. If you know baseball or college sports, you will understand that this is a big deal. If not, you will just have to trust me. We had general admission seats out in the "Pig Pen." No shade and it was, in the words of Rachel, "Smoking Hot."  It is aptly called the Pig Pen. Crowded and smelly in that heat!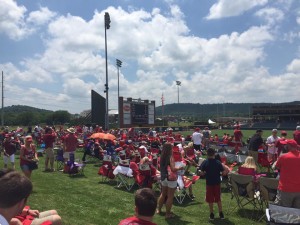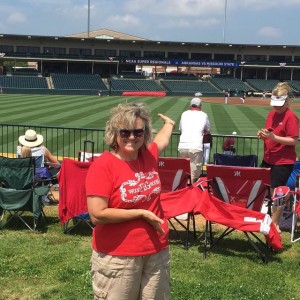 We were thrilled to connect with several sets of friends we had not seen in 20 years. We loved for them to meet Rachel and her to meet them.
God has blessed us with many wonderful friends along our journey. It was really fun to reconnect and share life.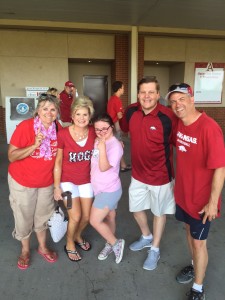 We stayed with dear friends from our graduate school years.  I think you will agree that they have the most beautiful view in Northwest Arkansas.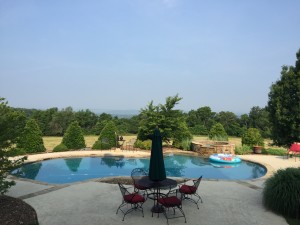 Lots of "stuff" along the paths of all of these friends and our lives but we all still love Jesus and our Hogs.
Rachel loves to cheer for the Hogs but her allegiance is to one specific Hog: Bobby Wernes, 3rd baseman for the Arkansas Razorbacks. I wrote a blog about him a few months ago, "One of the Good Guys #BobbyBandwagon."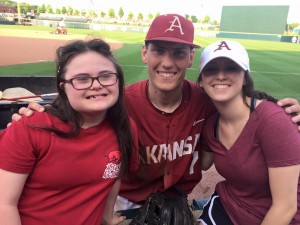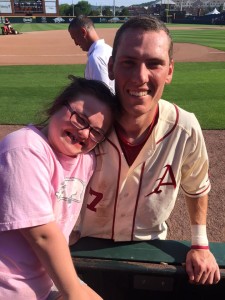 As Bobby sought out Rachel in the crowd, she was the envy of the little boys and girls crowded about wanting autographs! As best I could tell, Bobby and his team mates were gracious to honor all requests. Thought some of you might enjoy this video of Bobby and Rachel after the Hogs won the Super Regional!
Kudos to our OmaHogs and to Rachel for being a trooper in the heat!