As my daughter would say, my brain is full today.  What a week!  We met up with old friends, eternal friends. We attended the National Down Syndrome Congress conference. It is a giant family reunion. I met many folks I know via my blog and Facebook, connected with old friends and acquaintances, learned a lot, laughed a lot and saw Rachel attend her first Youth Adult Conference and make new friends.  Then, there was yesterday.
Last week just before we left for NDSC, Ronnie Metsker of the Johnson County Republican Party contacted me. Through our advocacy work we have become acquainted with his lovely family.  He told me about an event Kansas Governor Brownback (R) was hosting. He would be bringing in former presidential candidate Senator Rick Santorum. They would be hosting a press conference at an Olathe business, Cars4Less. They needed someone to do the Pledge of Allegiance and wouldn't it be awesome if Rachel could do that. I agreed that it would be awesome. Anytime our self-advocates can have an opportunity to show their abilities, it is awesome. So we adjusted our plans and made it back in time for Rachel to be a part of the event.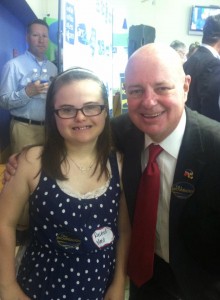 We trotted over to Cars4Less.  We met a lot of people. We met one of our school board members. We saw and heard Senator Pat Roberts (R-KS) co-sponsor of the ABLE Act and some of his entourage. We talked to Olathe Mayor Mike Copeland and Kansas Lt. Governor Colyer (R). President Dwight Eisenhower's granddaughter Mary Jean was there. We were able to meet many other people who are movers and shakers in our community and many ordinary folks like ourselves. I heard many times that Rachel has a million dollar smile. "She could help with our campaign."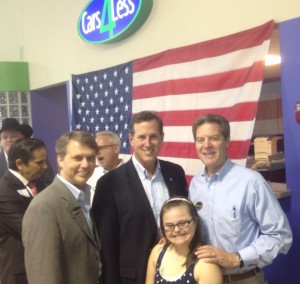 The room was packed and so was the schedule. It started with a prayer from a local pastor and then came Rachel. She confidently marched up and did the pledge with her beautiful smile and stopped to shake hands with Governor Brownback on her return to her seat.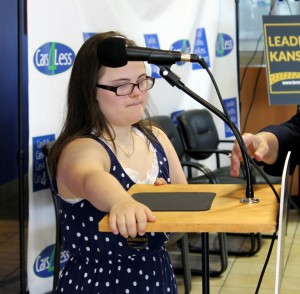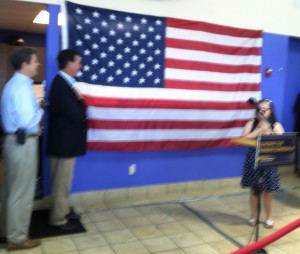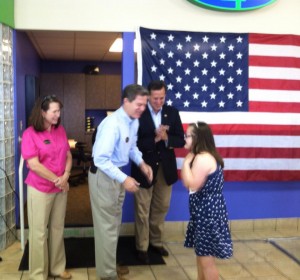 She sat attentively and listened to the speeches. She was especially excited  when Governor Brownback mentioned what a great job she did with the Pledge of Allegiance. He went on to mention that he worked across party lines with Senator Ted Kennedy (D-MA) to pass legislation that impacted people with Down syndrome. He said, "Look at this beautiful young lady.Everybody is beautiful and dignified and a beautiful child of a loving God." Rachel beamed. She clapped at appropriate times and stood up at appropriate times. She looked at the protesters. I leaned over and whispered that they disagreed with the Governor and Senators and they were exercising their rights because in the United States we have freedom of speech. She said, "I know. I learned about that in school."  She enjoyed every minute of the day.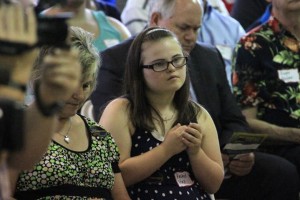 Some people are probably thinking it is the Pledge of Allegiance, is that really such a big deal and my politics don't align with these folks? Several folks told Rachel that they could not have gotten up and done what she did. We would have been afraid. The organizers told me they were concerned she would be overwhelmed by cameras and security and people.  They just didn't know Rachel. She became friends with Holly Starr and I think she may now have a new career path.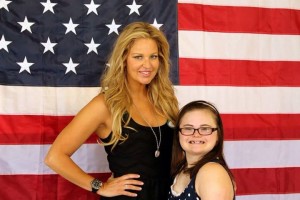 Having learned about advocacy as a 4-H member in rural White County, Arkansas I continuously tell people to put politics aside when it comes to advocating for the policies we need. Just like we expect our political leaders to work across party lines, so must we. Otherwise, we would not have IDEA or ADA or the ABLE Act (#passtheABLEAct) which is going to get passed this year! If I want the ABLE Act passed, if I want stronger seclusion and restraint law enacted, if I want more money for special education – whatever I want, I have to help educate our leaders on what we need and why we need it.
So maybe it wasn't a big deal. Yesterday someone's perception of people with Down syndrome was re-shaped by a girl named Rachel. Maybe the next time we are advocating for policies, we will have a few new ears. Rachel – leading the pledge and changes perceptions.