Been on my 25th wedding anniversary cruise so I've been off from blogging for a bit. More on that another day – maybe.  While we were away, Rachel had her first high school homecoming week including the homecoming dance. Not how I would have planned it but the school changed the date after I booked the cruise. What to do?  Call in my mom and call on many great friends like Rachel's Bethany, Rachel's "Lexi" (alias J-Lo or Leslie), Ms. Cox for overall consultation, Savanna's wonderful mom who assured me of smooth sailing and it was. Thanks to all of them. Savanna invited Rachel to be a part of a group of friends for the dance. This is a picture of a few of the pretty girls.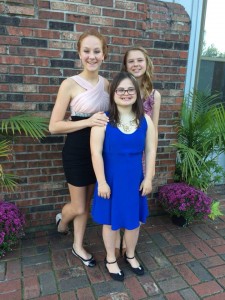 And one of my favorites.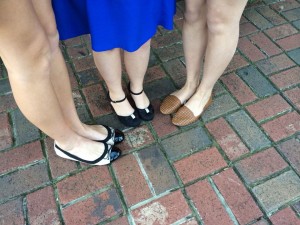 Everyone pitched in. The Vice Principal even sent me this picture from the dance floor –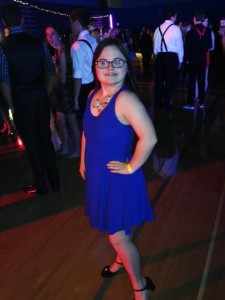 We had reminded Rachel that the vice principal was not her personal assistant! Reports say that she danced the night away. That's my dance queen girl.
Earlier in the week for Where's Waldo day, Rachel won an award from one of the best costumes.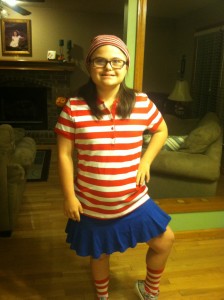 When I got off the ship and got reconnected, I called Rachel. She exclaimed, "I miss you mommy."  Then, she told me a little about the activities and she said, "I was sad at the dance. I not have a date." Mind you we have discussed this ad nauseum. "Really, what did you do?" "Andrew's mom talked to me." Andrew you may remember is the young man from social studies last year who was happy to have Rachel in his wagon train group. His mom and Rachel have connected as friends, and she too had assured me she would check on Rachel at the dance.  "She talked to me and I am okay." All good.
Upon return I have realized one of the things I miss most when I am away from Rachel: her prayers. Our friend Sharon says that Rachel has the gift of counseling and comfort. I would agree. Twice yesterday she prayed and thanked God that she was on student council. "I love being on student council. Thank you for letting me be on student council."  She told me that she had been on her knees with her picture of Grandma Susan praying because she missed her. Then, during her bedtime prayers she thanked Jesus for student council again and then she said, "Thank you for Ashley. I love her very much. She is a great president and a great friend. I am so glad to have my student council friends and get to help our school. I love Olathe South." Then, she went on and said, "Please help Allie feel better and her brother Zachary too. Thank you for my Sunday school girlfriends, Jesus. I am glad to have good church friends." Finally she said, "Thank you for bringing my parents home. I hope daddy has fun in Memphis. I miss them very much. Amen."
They don't tell you about sweet prayers and moments like this when they give you that Down syndrome diagnosis do they?