Rachel plans for her birthday year round.  She loves her birthday but she also loves everyone else's birthdays. She loves her gifts and seems genuinely thankful for each gift. She also enjoys finding gifts for others.  Last week one of her friends gave her this piggy bank.  She commented that it reminded her of Rachel because of the pink flower and the pink and green dots (they match her room.)
Another friend said, "Yep, if Rachel were a pig this is what she would look like!"  Rachel didn't quite know how to take that but we all thought it was hysterical.
She ordered up Salted Caramel Chocolate cupcakes for her 14th birthday.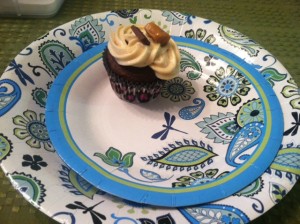 I found these in a Southern Living Magazine a few years ago. I had made these for teacher birthday treats and gifts, and she thought they sounded "amazing". This year she helped me to decorate them and that was fun. I must admit the cupcakes were "amazing!" The cupcake is just a basic chocolate cupcake recipe and this is the Salted Caramel Frosting recipe:
 Salted Caramel Frosting
Ingredients
1/2 cup butter, softened

1 (3-oz.) package cream cheese, softened

2 teaspoons vanilla extract

1/4 teaspoon kosher salt
1 (16-oz.) package powdered sugar

3 tablespoons milk

15 caramels

1 tablespoon milk
Preparation
1. Beat first 4 ingredients at medium speed with an electric mixer until creamy.
2. Gradually add powdered sugar alternately with 3 Tbsp. milk, beating at low speed until blended and smooth after each addition.
3. Melt caramels with 1 Tbsp. milk in a small microwave-safe bowl at HIGH 1 minute or until smooth, stirring at 30-second intervals. Fold caramel mixture into buttercream, creating swirls. (Do not completely blend.)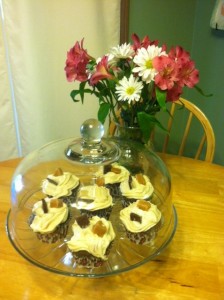 We topped them with a half caramel and a small square of chocolate bar. The girls LOVED them and I sent a few home with them as well.  The frosting is easy to make but I had to add more powdered sugar to try to stiffen it for decorating.
Friday (the day after her birthday) she looked at me and said, "Mommy that was the best birthday ever!  Thank you."  I'll take it.