Rachel is running for Vice President of Student Council at her high school.  The election and results are today. When I contacted the sponsor, I told him if she didn't win there would be tears. Just like if she isn't cast in a show, there would be tears. Life lessons and I do not believe because she has Down syndrome she is immune to such life lessons.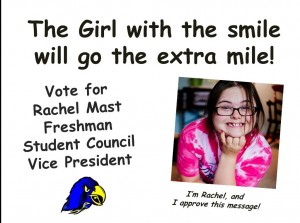 We have made posters. Lots of posters. We gathered friends to make posters.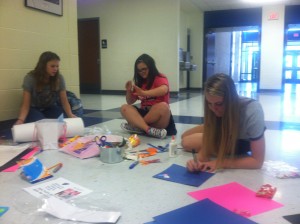 We have tweeted. Friends have re-tweeted. We have Instagrammed. Friends have liked and pledged support.  We have posted on Facebook and friends have re-posted and campaigned for votes via Facebook. She dictated her speech. We put it on paper in big letters. Her friend and peer mentor Andrea went with her to make the speech video. It will be played today.
This morning I picked up two friends, Savanna and her older sister Sierra. Both have been a big help. They were all meeting a group of girls who would help hand out candy campaign cards that said "Vote for Rachel. She's bursting with school spirit." The other one says, "Be a Smartie. Vote for Rachel." Starburst and Smarties are attached to the cards respectively. I sent a bag of Hershey's kisses for a little extra help.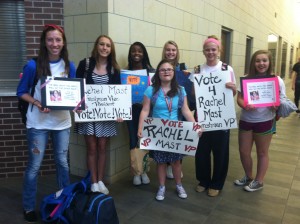 This morning I said, "Rachel today no matter what happens I want you to remember our verse." With the biggest smile, she said "Do not be afraid because God is with me wherever I go."
I have no idea who will win, but what I wish I had a picture of was of Sierra carrying bags of candy, and Savanna with bags of candy in hand helping Rachel out of the van and helping her with her bags. In her quiet way. Savanna was doing her on campaigning. She wore her Step Up for Down Syndrome shirt with "Rachel's Razorbacks" on back. And off went "The Girl with the Smile who GOES the extra mile" with her good friend Savanna. That's what really matters.