Honestly, last week was one of those where I was on a bit of an emotional roller coaster. On this journey with the precious girl who happens to have an extra chromosome, there are some hurts that I harness in my own heart because I don't want her sweet little heart to know what people are really like and that discrimination in the form of unthinking, unthoughtful and unkind people is very much alive. I can't and shouldn't always protect her from the hurts. But sometimes I must. I can hear my college pastor saying "Jawanda, people will always disappoint you. Jesus is the only one who won't disappoint." I believe and claim that or I'd really be a mess.
If you know me or follow my blog, you know I don't camp on nonsense for long. Had my little pity party and now I gotta keep on keeping on. So I shall turn my attention to sharing something really, really great.
The program description said:
21st Century Programs High School Programs
Early Childhood Career Opportunities (ECCO)
(District Early Childhood Centers)
Prepare for a fascinating and rewarding career in child development and/or early childhood education through hands-on experience in a preschool lab that lets students explore their passion to help develop the next generation. Students in this two-year program:
Work directly with preschool children in unique lab settings at one of our two early childhood centers
Prepare materials to use in the classroom
Acquire the skills needed to enter the early childhood career field and/or continue your education at the post-secondary level
Since Rachel was old enough to say what she wanted to be, she has said she wants to be a teacher. Of course she has added actress and few other things to the list but her list always includes teacher. It is in her IEP. It is in her transition plan. Most recently, she mentioned working  at a children's hospital. She took the Babysitter Class through the Olathe Public Library and still refers to the materials. She has taken parenting and child development. She told me the other day how you must never hurt a baby. If you are mad, you should count to 10. She sometimes works with the children at church and they seem to really be drawn to her. She is gentle, kind and patient. And she likes the snacks.
We've planned for her to apply to be in the ECCO program since we learned about it. Juniors and seniors in our school district can apply and they spend two hours a day during their junior and senior years  working in the child development center. They work directly with the children but they also take coursework on child development and related materials to prepare for their career.  Rachel applied and was accepted. We are thrilled.
Last week we attended the mandatory Open House for students enrolled in the Early Childhood Career Program. She was really excited that one of the volleyball girls is in the program. Rachel was fretting about getting back for the games and her friend assured her it would be okay. As you can see Rachel was grinning ear to ear.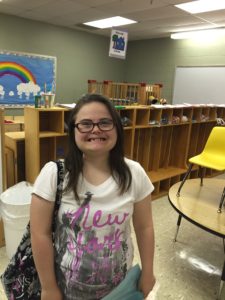 We met the teacher and the program coordinator. Later in the week we met the resource teacher who helps make sure there are supports for Rachel to be successful.  We learned that Rachel is the first person with Down syndrome to be in this program.
Like most things in life, there are pro's and con's to being the first. I suspect we'll encounter both. I was encouraged by our interactions with the leadership. Everyone had a welcoming look in their eyes and none of them had that "oh my gosh we have a student with Down syndrome, we have no idea what to do" look.  The were all inviting, enthusiastic and seemingly open-minded.
We shared expectations and we agreed that we would figure it out together.
It is not the first time.
I am fairly certain it won't be the last.
* Jonathan and I are most appreciative of those on Rachel's Team and all the other "Friends of Rachel" who share our high expectations and are supporting and encouraging her to exceed expectations and seize available opportunities.