Today is the last day of 7th grade. In less than two hours, Rachel will be an 8th grader.  Yesterday was the last full day. On the way to drop Savanna at home yesterday, I inquired about the day. Savanna reported that they watched movies in most classes except social studies. "We're still doing worksheets."  "On what?" I inquired. "Some guy named Thurgood something."  Immediately, I reported that his name was Thurgood Marshall and that he was a pretty important historical figure. "Civil rights." Savanna said. Rachel returned to listing the movies of the day, "We finished Mulan in language arts.  We watched Ratatouille in foods.  We watched science movies in science."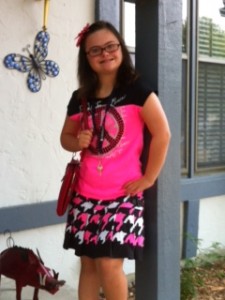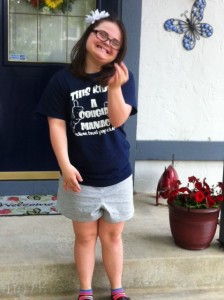 Last night, we helped at a fundraiser and on the way there I was recounting this "Thurgood" story with Jonathan when all of the sudden Rachel proceeded with a mini-dissertation. She reported "that guy" had something to do with everyone being able to drink from the water fountain and "Rosie" Parks riding the bus and making things fair for everyone. Yes, Rachel's work is modified. She has accommodations but she learns and when you least expect it she will exceed your expectations.
We have had a great year. Notice I didn't say a perfect year because as I often say on my blog and in my workshops and speeches, nothing is perfect. If you are looking for perfect you will live a very disappointed life. Our year started a little rocky. Rachel didn't make the cheer squad and we all thought it would be great for her to be the cheer assistant. She tried to tell us she didn't want to do that. We didn't listen very well. She gave in because she didn't want to disappoint mom and dad. We fixed that about the same time we punted a math teacher who didn't want her in her class. Teacher's loss.  Good choice on our part and we made it all work.  We have administrators who listened and teachers who made adjustments.  I frequently say we are all a work in progress so there have to be adjustments along the way. Rachel was fortunate to have folks who helped us to adjust in a timely fashion. Once we worked out that cheer thing and that math thing she was a happy camper again.
Then, the pneumonia hit. Most of October is a blur. She persevered though.  She got out of the hospital just in time to be a part of the "Just Like You-Down Syndrome" premier. Oh my goodness what a life changer that has been for us and for people around the world. People have a better understanding of Down syndrome and inclusion and how to treat people who may be a little different. What an honor that Rachel was selected to be a part of that. She had her first out of state speaking gig and developed her own "I Love My Life" presentation.
She read the same books as the other kids in her class and was able to have appropriate conversation about the books. She made 100 on her Exploring Foods final. You tell me if you could have answered these questions:
She did several PowerPoint presentations throughout the year because for Rachel that will serve her better than an essay about Kansas or "The Outsiders." She has been able to make a difference in national advocacy. She traveled to Washington DC again and presented awards to Senator Moran and Congressman Yoder for co-sponsoring the ABLE Act and for being Champions for Down syndrome. She thinks they are her buddies. I think she may be right.  I believe she is a key reason Senator Roberts recently signed on to co-sponsor the ABLE Act.  They are going to help her get that pink house. 
She was selected to be a WEB (Where Everyone Belongs) Leader for next year and will get to assist 6th graders in feeling welcome. We know at least one young lady with Down syndrome in the 6th grade. How awesome that Rachel will get to be her role model! I don't know that we made many new friends but we still have our great friends and we still have some fun times together. We've had a few "boy" tears. There are sure to be more.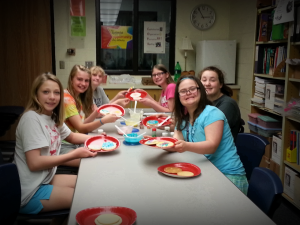 Congratulations Miss 8th Grader. Once again, you exceed expectations.