Rachel's grades came a few days ago. I already knew her grades because I follow online. However, there is something powerful and more real about feeling and touching the actual grade report. Rachel takes great pride in her school work and making good grades. As evidenced here with her all A's report, she is proud of her freshman year.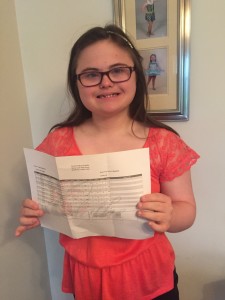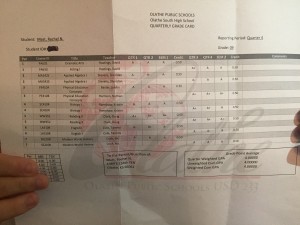 I have blogged about the positive aspects of her freshman  year. I've described our prep and doing all we could humanly do to prepare for success.  We are more concerned with her working hard and doing your best, but Rachel learned quite early that those who made good grades got to be "on the stage" and she is a stage girl. Rachel has major accommodations and modifications. Still, she works very hard. We are fortunate to live in a school district where she is recognized based on her abilities.
Today, I want to summarize some highlights from her from her freshman year starting with the academics. I've described some of her teachers and the great job they have done in "making it work" for Rachel. English and biology are the two classes I would say I am most proud of Rachel. I've written a lot about her English teacher. You know the one who reached out to us and said "I've never taught a child with Down syndrome. Help me." Rachel read "Of Mice and Men," parts of "The Odyssey," "Romeo and Juliet," and "To Kill a Mockingbird." Rachel averaged over 90% on all of the book tests. She will tell you she didn't care for "Of Mice and Men" and "Romeo and Juliet" was her favorite. No surprises. She can also have a decent conversation about these books with friends. Her final in English was 76 questions over "To Kill a Mockingbird." Rachel missed two questions.
Biology is hard. At the beginning of the year her teacher sent home a supply list. Graph book was on the list. I nearly had a panic attack. With Rachel's visual perception issues, I thought we might be in for a long year. Never have I been more wrong. I emailed the teacher and kind of said "Are you sure?" She said, "I want all my kids to have the same supplies. The kids with modifications already feel like they are different and I don't want them to feel more different because they have different supplies." That email told me the year would be okay. This biology teacher did her best to include all students in a meaningful way. She challenged Rachel. Rachel learned. Rachel made an 84 on her biology final. These are some of the things she needed to know:
Complete a Punnett Square.
Label the phases of mitosis.
What is cytokinesis?
Know the following terms: Heterozygous, homozygous, trait, dominant, recessive, genotype, phenotype
I was challenged with the questions but because her teacher gave us what we needed and gave us enough time, we were able to help Rachel prepare. I am thrilled with her 84. She  got her A in part because she did an extra credit project. A poster about a "vampire bat." Her choice because she thinks they are cute. Rachel would tell you this class was really hard for her. She was challenged and that's a good thing. One more thing about this teacher. Back in February at parent teacher conference she told me that she would be taking a group on a trip to Costa Rica. She said that she thought Rachel would enjoy the trip. She said that it was expensive but she was going to send me some information. I wanted to throw my arms around her and hug her on the spot. This is a teacher who truly gets it. Even if Rachel had not gotten that A in biology, this was a grade A teacher and a grade A experience for Rachel.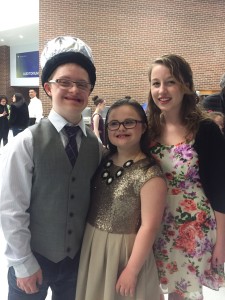 A few other thoughts and highlights from Rachel's Grade A Freshman Year:
Served as 9th grade girls volleyball manager.
Learned two short Shakespeare monologues.
Served on Student Council as a member-at-large
Assisted with the inaugural "Pledge to End the R-Word" event for school and district.
Elected to Winter Court.
Navigated the halls and 2,100 students with great success.
While I am very proud of Rachel's grade report, my intent today is not to "brag" about her making all A's. I am very proud because even with major accommodations and modifications, parts of school are very hard for Rachel. At our house we all work hard.  I also don't want you all to think this is all a cake walk and everything just falls in to place and is easy. My intent with today's blog is to assuade fear for some of you with children headed to high school. I also hope to give you some tools in your tool box to assist in your inclusive journey. There are a lot of behind the scenes events and some train wrecks unknown to Rachel or you as readers. Nothing is perfect. Hang on to your high expectations and persevere.
Finally, I would share a couple of closing thoughts. One: Communication is key. Back and forth communication via Rachel's iPad and emailing directly with teachers are essential for us. Second, adequate prep time and understanding how information will be presented to Rachel are also essential elements for Rachel's success. Her IEP states that we get study guides and test format at least a week prior to tests and major projects. We in turn set up flash cards on her iPad and study. This has been a central key to Rachel's learning.
While Rachel is very proud of her grades, Winter Court and STUCO, if you ask her what the highlight of her year was she would say: "I won the dance-off the first day of school!" That's my girl! Hello Sophomore Year!