Rachel loves birthdays. Last night when she was praying she thanked God for celebrating America's birthday. We kind of have a tradition of making some different patriotic looking things. Last year we made some 4th of July Breakfast Pies. Several years we have made a Flag Cake. That has been her favorite. She loves cake!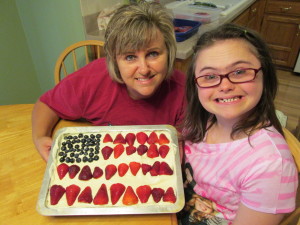 It's just a yellow or white Cake with holes punched in it. Drizzle strawberry Jello in the holes and refrigerate.  I make a pudding-whipped cream frosting to spread over the top. Then, we make our flag from blueberries and strawberries.  It is tasty and festive!
Thanks to our friends at Pillsbury, this year we decided to try another new recipe so we opted for a Patriotic Cookie Pizza. Pretty easy to make.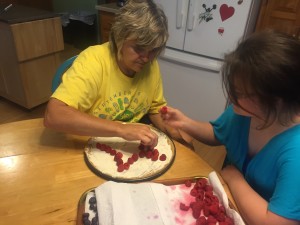 Rachel's main jobs were to spread the cream cheese mixture and then help put the star together. I just used the tip of my finger to outline a star. We outlined that with the raspberries, filled that with raspberries and then filled the edges with blueberries from our friends the Hiatt's Blueberry Farm.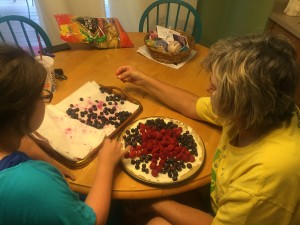 It's in the fridge now but I suspect it will be a yummy treat a little later.  You can find the recipe and directions with this link to Pillsbury Patriotic Cookie Pizza.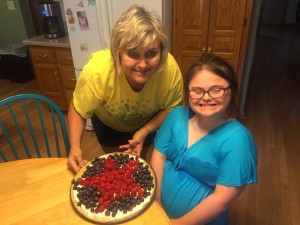 We are thankful to live in a country where we have so many freedoms and could never express our gratitude for the sacrifices so many have made so we may enjoy these freedoms. God Bless the USA!