Apparently, Rachel is moving into her pink house sooner than later. She was irritated with me last week.  Yes, this would be my sweet child with Down syndrome who is always happy. During one of her self-talk bathroom sessions I overheard her say, "It won't matter Rachel. You are moving OUT OF THIS HOUSE in a year!" Laughter overtook me as a I fell down the stairs to share with Jonathan that we would be empty nesters sooner than we expected!
Last week, was a wild week.  I headed to Topeka a couple of times to work on the Kansas ABLE Act. After getting our federal ABLE legislation signed into law in December, we then started the process of state companion legislation. Kansas State Treasurer Ron Estes and his office did an amazing job of readying Kansas' companion legislation for Representative Erin Davis (R-Olathe) to introduce back in January. You may have read about it. Our Congressman, Rachel's friend Kevin Yoder (R-KS) testified and then introduced Rachel. She won the hearts of the committee and it passed out of committee unanimously. You may have heard, we have budget issues in Kansas and in many states. Our budget issues combined with some politics almost stopped the Kansas ABLE Savings Plan in its tracks.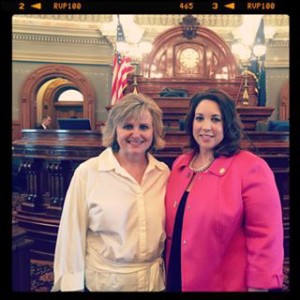 However, we didn't give up. Rep. Davis persevered. She reached out to State Senator Greg Smith (R-Overland Park) and he attached our bill to one of his. Unanimously passed the Kansas Senate, 40-0. Then, just when we thought we were ready for the house vote – we hit another snag. So advocates rallied. Action alerts went out. The KS Disability Rights Center, Autism Speaks, Developmental Disability Council, National Down Syndrome Society, other local support organizations, legislators and ordinary people like me went back to work. We tried to dispel myths and provide accurate information.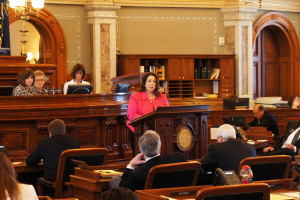 So Wednesday, April 1 2015 the Kansas House of Representatives overwhelming said yes to individuals with disabilities by passing the KS ABLE Savings Plan 116 yeas to 4 nays. On my way to Topeka that morning, I was especially emotional. It is difficult to put into words the emotion I felt as we took one of the final steps toward making ABLE real for Rachel and so many other Kansans.
Such a string of people to thank for this victory. Rep. Erin Davis sponsored the bill and introduced a bill (HB 2170) requiring stronger seclusion and restraint rules and regulations in the Kansas public schools (that bill is still in conference.) I met Rep. Erin Davis when I was at an event with Congressman Yoder last year. She immediately wanted to help us in our endeavors. I told someone from NDSS that Erin Davis is our friend. What I mean is that Erin Davis has a heart for individuals with disabilities and their family. Through this session I have seen someone who will work with us and help us. She understands we need a voice, her voice. She is a friend to those with Down syndrome and other disabilities. I am thankful.
Thanks to Sen. Greg Smith for keeping the bill alive. Thanks to the Kansas State Treasurer's office for everything they have done and will continue to do to implement the KS ABLE Savings Plan. Thanks to all those partner organizations for pounding the halls of the state capitol to help get this bill passed. Thanks to the advocates who made their voices heard last week when we needed them most. They responded to the call of action.
I have to say thanks to the KS Congressional delegation, Senators Moran and Roberts, Representatives Yoder, Jenkins and Pompeo for co-sponsoring and supporting the federal ABLE Act.  Some of their tweets about their home state of Kansas, a place they all love and are proud to call home:
A shout out to Steve Back. May you rest in peace and thank you for leading the charge to make this possible.
Finally and most importantly, thank you Rachel. Thank you for wanting to live in a pink house. Thank you for being my best teacher ever. I have often said this is a labor of love and conviction for Rachel and for others. For me, it starts with my passion for a more inclusive world for Rachel. One where she can have dignity, she can be respected, she can be independent and make her way.  One where she can live in a pink house – just not sure it will be in a year though!
Now my signature line reads:
#PassEDtheKSABLEact