Back at the beginning of the school year Rachel ran for Student Council. We worked on posters for several weeks. She did her little speech. She handed out candy. Election day came and mom and dad nervously awaited her arrival home so we could learn the outcome.  I got a call in the afternoon and heard excitement in her voice. I thought "Oh my, she won!"  Her voice said, "Guess what mom? I was elected as a member at large!" She was thrilled. When she auditions for a show and makes the ensemble, she has that same attitude. No matter how small the part and whether she wins or loses the election, she has this amazing attitude. Earlier this week,  Kelle Hampton blogged about college for students with intellectual disabilities. It was to parents and one of her points was that we need to let our children take chances and make mistakes. I often make that point in my workshops. All children whether they have Down syndrome, they are a braniac or they are just happy to be here, that's how we learn to navigate life. None of us is immune to disappointment.
So almost every Monday night Rachel has trudged off to Student Council. I believe the students have included and encouraged her. The president has been amazing to include me on the messages she sends before and after meetings so I can help facilitate involvement.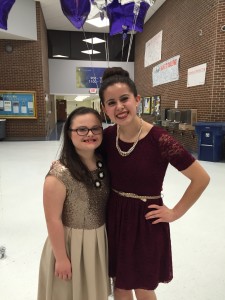 Rachel comes home with her notes (that I can't read) and we have to update the calendar. The vice president is an amazing young woman too. She is headed off to become a special education teacher and she will be an amazing one. She has started calling Rachel from time to time and inviting her to do things. Rachel getting a phone call from a senior she idolizes does make her feel pretty important.  That wouldn't have happened if she hadn't taken that chance and gotten involved.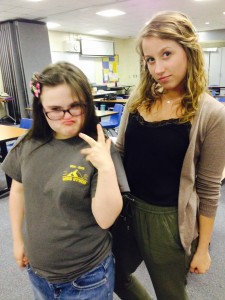 She has loved being a part of Student Council (STUCO.) Really that goes to the point of it all. We all want to be a part of something. We all want to belong – remember Maslowe's Hierarchy of Needs anyone?  Rachel is no different. She may be a part in a different way but she believes that her role on STUCO is as important as everyone else's.
Monday night was the last meeting.  Rachel got the "Best School Spirit" award for "being so optimistic and happy all the time!  We couldn't do it without you." Once again, you would think she had won an Oscar!
The STUCO president sent me this: "Rachel made a wonderful speech tonight at our meeting about what Student Council and leadership means to her. She also included how much she has enjoyed working with Mr. Smith (sponsor), Jordan (VP) and I. Rachel is such a beautiful person inside and out and it has been an honor working alongside her this year! :)"
And now about that inclusion thing. Who does benefit from inclusion? I think the answer is pretty clear.  Thanks Ashley and Jordan and others for doing this journey with us.  Can't wait to see how you change the world.