Rachel's first venture into social media is her twitter account  Please welcome her by following her @Rachelspinkhous. Perfect name don't you think? We'd been discussing her staring to tweet when we got some good news yesterday about the ABLE Act. I was at my desk when this hit Facebook and I shrieked! Rachel came and said "what happened?" I showed her. She clapped. Her daddy and I decided that this was the time to introduce the wonderful world of Rachel via Twitter. Her first tweet says: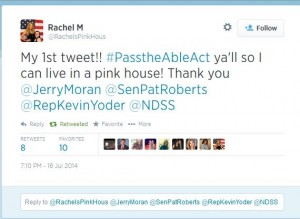 This is why!
The ABLE Act IS ADVANCING in the US Congress! #passtheABLEact
The Achieving a Better Life Experience (ABLE) Act (S. 313/H.R. 647) is advancing before the 113th Congress – NDSS is excited to announce that the US Subcommittee on Taxation and IRS Oversight, of the Senate Committee on Finance, will convene a hearing on the ABLE next week!
The hearing will be held July 23rd at 10 am EST on Capitol Hill. NDSS Board Member and Self-Advocate Sara Wolff, whose change.org petition has over 250,000 signatures, is set to testify along with Congresswoman Cathy McMorris Rodgers (R-WA), Robert D'Amelio, Volunteer Advocate, Autism Speaks, Charlotte, North Carolina, and Chase Alston Phillips, Financial Advisor, Alexandria, VA. #passtheABLEact
For more information and to see how you can attend in person or to watch, click here: THE ABLE ACT IS ADVANCING in the US Congress
Below are Rachel's friends and ours, Senator Moran (K-R), Congressman Yoder  (K-R) and Senator Roberts (K-R). We are proud they are all ABLE Act co-sponsors.
We think @Rachelspinkhous will provide great entertainment and education as it showcases the abilities of one young woman who just happens to have Down syndrome!
Now let's get this done. #passtheABLEAct NOW!