Fifteen years ago today most of us don't remember what we were doing. Sunday is the 15th anniversary of 9/11 and we all remember what we were doing then.
At the time of 9/11 Sedgwick, my husband's employer, was under the umbrella of Marsh McLennan.  Marsh lost 295 colleagues and friends that day. Only Cantor Fitzgerald lost more.
Today, Sedgwick is honoring the memory of all of those lost and impacted by 9/11 by donating to the Families of Freedom Scholarship Fund.  I am very proud to share their blog today, "9/11: Reflections 15 Years Later."

The blog features very personal accounts of the day. One is an account from our friend Pete, who was in one of the Towers on that world-changing day. The other from Sedgwick colleague, Christine, whose husband is a New York City Fireman.  Here is a picture of Pete and Rachel from our trip to NYC last summer.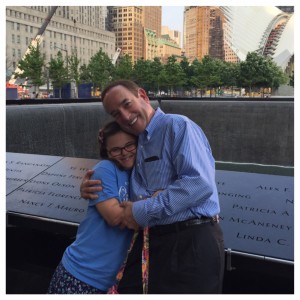 Thank you Pete, Christine and Sedgwick for sharing these very personal stories with the world.
I hope you will read this and remember.