My husband runs – a lot. He and his friend Clay just made it to the beautiful Cascade Mountains in Washington where on Saturday and Sunday, Jonathan will run the Big Foot 100K.  People want to know why Jonathan runs in what many of us consider "crazy" long runs. He started with the St. Jude Marathon and has now moved up to Ultra Marathons.  A few years ago he wrote this article for the Down Syndrome Guild of Greater Kansas City's Dad's Corner of their Connections newsletter. In honor of him and because it is such a great message, I thought I'd share it again.
Why I Run by Jonathan Mast (2010)

I am a runner. I run a lot. Sometimes, up to 50 miles in one day! A lot of people ask me what I am running from and why I chose to go to such extremes. I am not running from anything. I am running to something. How did I get started and why? I started out like anyone else. I ran a mile one day and then progressed to marathons and then on to what is called an ultra marathon. I have many reasons for running, but my one driving inspiration and my end goal for climbing out of bed when it is dark, cold and snowing is my daughter Rachel.
Rachel is my amazing daughter who is almost 11. This year she received an award for reading 6,000 minutes at school, and I was there by her side for most of those minutes. She has been in countless plays, choir concerts, and soccer games and appeared on TV shows just to name a few of her accomplishments. If she had a Facebook page, she would have a huge following. Though of less importance Rachel has Down syndrome. So some people find this list of achievements quite unbelievable. I live with her so it is just everyday occurrence for her to raise the bar beyond what the world expects her to be able to accomplish because of this label.
Since she was born, I have watched as she pushed past one goal after another. She has left behind a trail of skeptics who wanted to set the standards so low that if equated to my running program would mean that I would just stay in bed every morning and not lace up my shoes.
My most recent race was a distance of 40 miles through miserable muddy conditions around Lake Clinton, KS. My legs hurt toward the end. I was facing the usual mental opposition of why should a 46-year-old man be out here doing this seemingly crazy hobby? As always my mind drifted to Rachel and the visual image of her waiting to run those last 100 yards with me. My ultimate prize was that sparkling smile, beautiful, contagious smile that would join me as I crossed the finish line. She will be saying did you win daddy? I will answer no but I finished. She will say that's great daddy – you did your best. She's heard us tell her a million times – just do your best.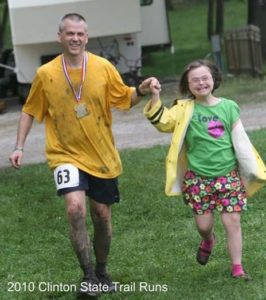 I think of how she may not think of what she does every day as hard work. Then again she may based on recent homework conversations. Some days are hard when she suffers the occasional cruel comment from another child or gets frustrated by a math problem and tells us "my brain forgot". Then almost as fast as Usain Bolt in the 100 meters, she rebounds and is making us laugh with her jokes and her crystal clear laughter.
Life is hard for all of us sometimes. Running helps me deal with what life throws at me. So in answer to your question, I am not running away from anything but rather I run toward the hope and joy that my daughter Rachel brings to me. I run because I want her to know that all things are possible. I want to be in good health so I can hopefully enjoy the many more amazing journeys she is going to take her mother and I on in life. God gave me a ticket to an amazing story.