My husband Jonathan is a runner.  I don't mean he goes out and runs around the block. He runs ultra marathons and this weekend he is running rim to rim to rim at the Grand Canyon. Yep, that is down, across, up, down, across and back up.  No one is making him do this. He is doing it because he wants to. He started doing these about 10 years ago with a marathon and has now built to this.  He tells me it is his mid-life crisis and it's better than a blonde and a convertible. I won't argue with that.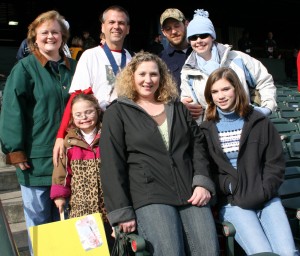 Sunday night he did the lesson for our middle school students at church. Like Paul in the New Testament, he related his running to the Christian journey. In 1 Corinthians 9:24 – 27 says, "Do you not know that in a race all the runners run, but only one gets the prize? Run in such a way as to get the prize.Everyone who competes in the games goes into strict training. They do it to get a crown that will not last, but we do it to get a crown that will last forever. Therefore I do not run like someone running aimlessly; I do not fight like a boxer beating the air. No, I strike a blow to my body and make it my slave so that after I have preached to others, I myself will not be disqualified for the prize."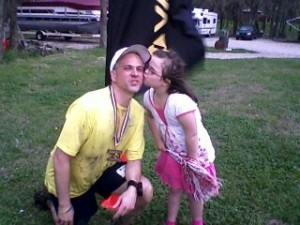 He discussed preparation, training, accountability, fueling the body and mind, and discipline.
Of all the things that impress me about his running it is his discipline. He gets up at 5:00 on a Saturday morning when it is 10 degrees outside and goes and runs. He runs in the rain, heat, cold and snow. A regular modern day Forest Gump.  I am a morning person but I do not like the cold. I have gotten up early on cold mornings to eat, participate inor lead a Bible study, to go to a football game, go on vacation, speak to students, meet friends, travel, and go to a funeral, but I would not get up early any cold morning to run.  I would roll over and hit the alarm and say forget that. But if Jonathan did that, his body or mind would be prepared. That is discipline.
One of the main reasons he started running was to celebrate. Personally I would celebrate with a cheesecake, but this is what he has chosen. What is he celebrating? He is celebrating that he is cancer free 13 years now. Among other things, he is celebrating that it is another year God has given him to be Rachel's daddy and experience her life.  I celebrate that it is another year that Rachel and I have him in our life and the great joy that has come in our Great Adventure! We won't be with him in body at the Canyon but we are his cheerleaders here in Kansas City and year round!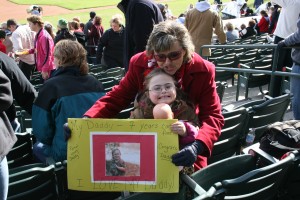 Run Daddy Run! We love you.