Last weekend, Rachel was Strato in her high school's production of Julius Caesar.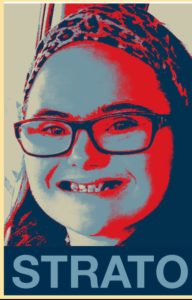 If I counted correctly, she had seven lines.  She was scarcely seen until the end when she appeared in a big way in one of the final scenes.  Her director said, "What has been so great about working with Rachel is that she is so diligent. She is a lovely young woman, and she is a ball of energy, but her work ethic is phenomenal. Rachel was a great part of our ensemble. She was attentive, responsive, and very coachable. She did exactly what she was told, and brought her own insight to the show."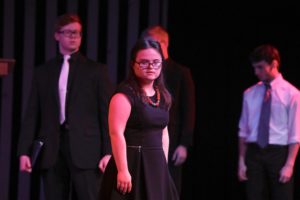 I must admit that last year when the theatre director said they would be doing Julius Caesar this year, I thought it sounded horrible. I was quite puzzled when the students fell into thunderous applause. A recent secret confession on my part: I am not a huge fan of Shakespeare. Now, I've said it in real life and on my blog so I can get on with life.  I found it quite interesting that these students were so enthusiastic and quite honestly, I thought this is probably not the best production for Rachel.  I would be wrong.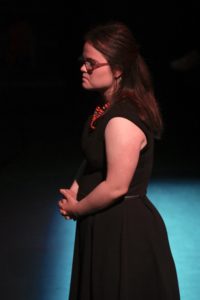 First, I am way beyond impressed with these students and their performance. The sheer number of lines they had to learn would have been daunting for many seasoned actors and actresses. They were good on the stage and as best I could tell, off the stage, too. One of the senior girls reached out to me to be sure I knew  all the "official" and "unofficial" things going on with the show. The theatre students take classes together, perform together in school and many perform together in community theatre. They are a group.  Almost as much as wanting to be on stage, Rachel longs to be a part of this. And she was.  I watched the little things the students did to give Rachel encouragement and direction. I was equally impressed with these efforts.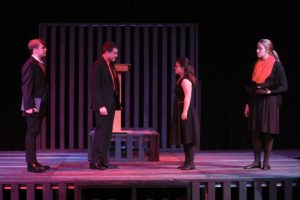 Rachel has many friends and family members who came out to see her in the show.  They all watched patiently for her final scene and we didn't give away any of the secrets.  Strato- is a soldier in Brutus's army. He accepts to hold the sword Brutus throws himself on.  So with wide eyes our guests said, "You didn't tell us Rachel kills someone in the play!"  Actually, she was the sword holder and we thought she did an amazing job of capturing the mood and the moment.
Our friend Grace is finishing a master's degree in opera and she has directed, taught classes and coached Rachel. This was her assessment of the Rachel's performance:
"Tonight I witnessed one of the greatest performances I've ever seen. And trust me, I've seen a lot. Shakespeare is HARD.  Not only did Rachel do amazing on her lines, her actions spoke louder than her words and this little actress SHINED. Words will never express my love for this girl. Her passion and love for everything and everyone teaches me lessons everyday. This my friends is why Inclusion Matters."
So now about Shakespeare and that inclusion thing. I wasn't excited about Shakespeare but Rachel was. Truthfully, Rachel would have been excited about almost anything because for as long as she has known she would go to Olathe South, she has talked and dreamed about being in a play at Olathe South.  We'd attended friend's shows.  Rachel loves her school and she loves the stage.  She has taken every theatre class she can and is still obsessing over the fact that she wasn't in a theatre class this year because her schedule didn't work out. Rachel has been in 18 Christian Youth Theater or Community Theater Shows and one middle school show, but never a show at Olathe South. She auditioned for "Grease" last year along with over 100 other students and she didn't make it. All our kids will have disappointments in life and that is hard for parents. However, Jonathan and I have always believed that this is a part of Rachel's life experience that will help her to be a well-rounded person.For those of you have followed my blog for very long, you'll remember one of my aha life moments was when Rachel auditioned for her first show – Auditions: Paralyzed by Fear.  I will not allow my fear to dictate Rachel's life.
When Rachel entered high school, we knew she would read some Shakespeare in her English classes. I hadn't thought about the fact that might have to learn Shakespeare monologues.  But she did both for English class and theatre class. Both times Jonathan and I were like, "You do know working memory is often an issues for individuals with Down syndrome?" Yep, but we think she can do it. It is a time when the teacher's expectations exceeded mine and I am glad they pushed us and her!  When Rachel started high school and I said she would be in general education English, someone said to me, "Why do you want her in there? She'll have to read Romeo and Juliet?" Yes, and guess what? She loved Romeo and Juliet.

If she had not been included, we would never know if she would love Shakespeare or not.  If we had not allowed her the opportunity to try, we wouldn't know that she could learn a monologue and that she could learn lines and deliver them with powerful emotion. Her director, who is also the teacher who pushed for her to learn the first Shakespeare monologue, had this to say about her Julius Caesar performance:
"And I thought her final performance was the best. She took the note and committed in an honest way to the moment in the show. That is VERY difficult. It is high level acting. Or high level living. Rachel is amazing. She not only acted her part well, but she set a role model for others to follow."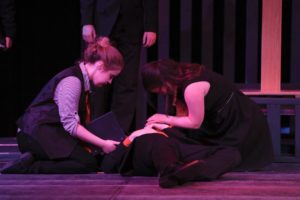 Jonathan and I both want to express our sincere thanks to Olathe South Theatre Director David Hastings. He has encouraged, believed in and invested in Rachel and in doing so has helped her to become a better actress and a better human being.  I asked his permission to share some of his comments and said of course. I told him I wasn't sure that he could understand this stuff is encouraging to others who are on this inclusion journey and looking for suggestions and inspiration and hope.
And if Rachel had not been included, we might have never known that even I might learn to love Shakespeare.