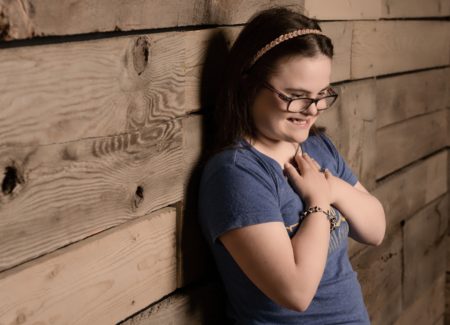 Parents of individuals with disabilities have a lot to think about. One of the extras we get to think about and act on is the shameful use of individuals with Down syndrome and other disabilities as targets for humor. There is an ongoing battle right now between Netflix, the "comedian" Tom Segura, and the Down syndrome community because of his disgraceful routine aired on Netflix that targets people like this girl right here to create comedy.  In spite of outcries from our community, not much has happened and certainly no outcries from mainstream media or people in power.  We call it hate speech.  Guess what? That's not the topic of my blog today but I wanted to put it out there anyhow.  See a link below where you can tell Netflix that you think that this is unacceptable. Telling them with your pocketbook would be even better.
Among the many other issues hovering in the abyss is Organ Transplant Discrimination.  I've been working on this issue for a couple of years and last year had the honor of working with State Representatives Erin Davis and Linda Gallagher to get HB 2343 Ensuring organ transplant nondiscrimination legislation introduced in the Kansas House. With the help of many disability related organizations and parent advocates, the House unanimously passed this bill.  Due to other pressing issues, it was not taken up in the Senate but the bill was blessed so this session we picked up where we left off last year.  Senator Vicki Schmidt and the Senate Committee on Public Health and Welfare heard oral testimony on the bill last Wednesday. All testimony was in support of the bill.  The bill was passed out of committee – unanimously. YEAH!  I've done enough advocacy to know it's not a done deal until the Governor signs it into law, but we have boots on the ground to move forward.
Many of my friends and acquaintances whose main connection to the world of disability is Rachel have reached out about this organ transplant nondiscrimination legislation we are working to pass in Kansas.  I always love to educate anyone and everyone, and you should see the shock and horror on faces when I explain.  Since Rachel is the primary connection, these people envision Rachel being denied an organ transplant because she has Down syndrome. It's suddenly real.  You see, they know the sweet, sassy, funny, compassionate, loyal young woman who almost always has an encouraging word. They see the girl who is just dancing her way through her senior year, who has hopes and reams just like all other 18-year-olds, and they are simply horrified.
Now, I'm gonna take a little detour and discuss doctors and other healthcare professionals.  With very few exceptions our family has had awesome doctors.  Not perfect but awesome. I had a prenatal diagnosis and my doctor handled it beautifully. However, I could write a week of blogs on the botched delivery of diagnosis stories, the assumptions you would terminate your "defective" child, and "this child will ruin your other children's lives" stories. I could add in a measure of low expectations and insensitive remarks, and you would all think it was fiction. I think our medical community is doing a much better job. This is a direct result of local Down syndrome organizations educating professionals, but one of these stories is too many. We must do better. We know that historically healthcare was often not offered to those with disabilities or was withheld.  This is an example of people of influence and power deciding who has value and who does not and solely on the basis of their perceptions.
We have organ transplants stories, too. It is usually very subtle. Families are in crisis when their baby or other loved ones need an organ transplant. They trust the doctor when the doctor gives them the list of reasons why the person won't be on the list.  I have had several of these heartbreaking discussions where parents realized after it was too late that the reason their loved one wasn't place on the transplant list was because the person had Down syndrome.  By the time many realize it, the health has deteriorated to the point that the transplant isn't an option.  Often doctors do not believe a person with Down syndrome or disability could follow the post-surgery protocol. However, we all need support to make it in life. Certainly, individuals with Down syndrome have support systems in place to help them follow these protocols, and this should be taken into consideration.  Another scenario is the lengthy appeals process.  Again, in most situations by the time a family exercised and completed this option, the individual would be dead or too compromised to qualify. I have spoken to these families. Most of the families I have spoken with are still so traumatized that they cannot share their stories. So we must.  They live with the grief and the guilt. The guilt of not knowing that their loved one might be victimized simply for being born with Down syndrome or another disability.
So you may say "what about the ADA (Americans with Disabilities Act.)  The ADA gives broad protections for individuals with disabilities. The specific issue of organ transplants is not addressed. My friend and fellow advocate Courtney Hansen (Inclusion Evolution) shared this information in one of her blogs:  ".. a group of 30 Republican and Democratic U.S. Representatives signed a letter just last year to the Department of Health and Human Services asking them to issue federal guidance to protect individuals with disabilities against organ transplantation discrimination. Unfortunately, nothing came of that letter. That's why states need to act."
California, Maryland, Massachusetts, New Jersey, Oregon and Delaware have all passed legislation similar to the bill pending here in Kansas.  I am proud to say we do not have single report of this type discrimination occurring in my state of Kansas. I want to keep it that way here and in other states. That's why I'm advocating for this law to be passed.
This is the last paragraph of my testimony in support of KS HB 2343:
"Every parent's nightmare is that his or her child would be sick enough to require an organ transplant. Our daughter is truly amazing, and she has touched so many people in our community in positive ways. She will graduate from Olathe South High School in May where she was volleyball manager for four years, is a Thespian, part of STUCO and a member of National Honor Society. She often speaks publicly about the experience of having Down syndrome, and always says "I love my life." In fact, three years ago, Rachel testified before the Kansas House Children and Seniors Committee in support of the ABLE Act and last January became the first Kansan to open a Kansas ABLE Savings Account (picture below.)  This bill would go a long way to ensure that Rachel would receive equal treatment and consideration, just like her friends without disabilities, should she ever need a life-saving transplant procedure.
I urge you to pass this bill and send the message that the Kansas state legislature values ALL lives equally, regardless of disability."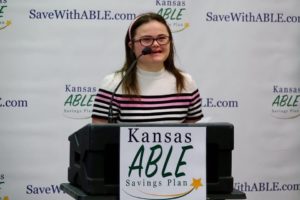 This girl right here checked yes to donating her organs.  Several of our friends with Down syndrome have donated their organs. Don't they deserve fair consideration, too?
NOTE: