I wasn't going to blog today, but I can't help myself. Our friend Olivia graduated from high school last week, and everyone needs to see her valedictorian speech!  I first met Olivia at Special Kids and Families. I don't think she was quite three years old.  Special Kids and Families was our early intervention provider. Olivia was there with her mom, Becky, and brother Ben. Olivia was one of the peer models in the program. Her brother Ben happens to have Down syndrome.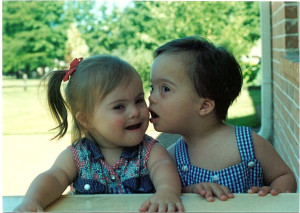 As God had things planned, we met Ben and Becky on our first trip. Rachel was about a week old and Ben almost two weeks old. There, a lifelong friendship was forged. I am eternally grateful for Special Kids and Families and for our friendship with the Halvorson's. Though we moved from Memphis to Kansas seven years ago, Becky and I talk several times a week and continue to provide support for the challenges and joys on this journey.
As you will see, Olivia is a very bright, articulate, talented and beautiful young lady. When she graduated 8th grade, she took her stage as the valedictorian and in an emotional speech talked about her brother Ben. Last week she had the opportunity with an even bigger stage to give a valedictory speech at her high school graduation. She could have talked about so many things. Olivia again chose to talk about Ben. She chose to talk about seeing people's abilities. She challenged the audience not to look at the outside but to look at the inside and the potential. Well, you can watch the short speech here.
I could not be more proud to call a young person or a family friend. For all of you who have been told that this person with Down syndrome will be a burden to their siblings or what they can't do, I say meet Olivia Halvorson. And don't compromise!