Rachel and I had the honor and privilege of joining our Senator Jerry Moran (R-KS) for a lunch meeting today. We love Senator Moran for so many reasons. One of his district office staffers, Michele, coordinated today's logistics and met us when we arrived. There were quite a few people Rachel knew and Michele said, "Rachel you know more people than I do!" Rachel, in very matter of fact kind of way, responded "I'm famous." You have to love her positive self-esteem.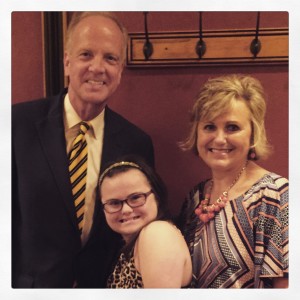 One of the reasons we love Senator Moran and he is one of our champions is because of the way he treats people. From the first time we met him, his warmth, love for people and commitment to constituents has been evident. He listens to people. On a February day in 2012, he listened as Rachel invited him to co-sponsor the ABLE Act because "I want to live in a pink house." Yes, his Washington DC office is where the pink house concept was unveiled. The room filled with laughter but no one, least of all him, has ever forgotten about it. At that moment on that day, a lasting friendship was forged between a young lady named Rachel who happens to have Down syndrome and a United States Senator. Senator Moran signed on as a co-sponsor and signed on again until we got the job done. That's a big reason he is one of our champions.
Senator Moran has posed tough questions and important questions to the NIH regarding funding, research and initiatives that benefit individuals with Down syndrome. Another win in our champion's column.
We love Senator Moran's staff in DC and here in KS.  They always welcome us warmly and openly and treat us like we are important. When the Senate passed the ABLE Act, one of his home staffers called and brought a Pink Gingerbread House kit to Rachel. She wanted to give Rachel her first pink house.
Today, one of the biggest reasons he is our champion is because it was recently announced that he is the Senate Co-Chair of the Congressional Down Syndrome Task Force. Senator Robert Casey (D-PA) will be Senator Moran's co-chair in the Senate.  Representatives Chris Van Hollen (D-MD), Cathy McMorris Rodgers (R-WA), Pete Sessions (R-TX), Eleanor Holmes Norton (D-DC), Ander Crenshaw (R-FL) Cheri Bustos (D-IL) are leading the efforts on the House side. The purpose of the Task Force is to provide a forum in which members of Congress and staffers can actively engage in a dialogue to improve the quality of life for people with Down syndrome and their families. The Task Force is central to helping raise awareness of Down syndrome on Capitol Hill and promoting public policies that will enhance the quality of life for those with Down syndrome. We believe it's important, and we are so proud to have our Senator as one of the leaders.
Before lunch we had the opportunity to say thank you and talk briefly about the Task Force. He was gracious and said he was looking forward to working with Senator Casey and others to do some good work on behalf of individuals with Down syndrome. He  looked at Rachel and told her," You are the reason for this." Then, he wanted to know about her job. He had heard she had a part-time job and wanted to know all about it. She proudly told him she works at Robek's making smoothies. She told him about Olathe South and they discussed Student Council.
At the end of his remarks today, Senator Moran recognized Rachel. She beamed as he said "We have an example of a great politician here with us today. Her name is Rachel Mast." He went on to share about her work on the ABLE Act. He shared how this was a great example of working together across party lines to pass a good piece of legislation. He mentioned her job and her service on the Olathe South Student Council. Oh baby girl, the difference you have made in 16 short years.
Speaking of champions, these are just a few of the reasons why Senator Moran is one of ours.  Thank you Senator for being our champion and a champion for all individuals with Down syndrome and their families.