What time is it?  It's summer time!  This mom had a minor setback yesterday when I realized Rachel wasn't invited to an end of school party, but in our busy life there is little time for pity parties and it is not a good trait for Rachel to mimic. Just as I was wallowing in worry about things that may never come to fruition,  I opened this email from one of Rachel's general education teachers.
 "I really feel privileged to have had Rachel in class.  She earned every bit of my class award, only 20 kids received one and it was for maintaining at least a 95% over 3+quarters.  To get over a 95% students basically couldn't have had any late assignments during the quarter.  I absolutely felt that she was learning new things throughout the year.  She is the type of student that brightened my day each time I saw her with a smile and an eagerness to be in class, ask questions, share stories and someone who I genuinely felt happy to be in my room each and every day."
Good stuff. Rachel won three academic awards at the awards program on Tuesday.  So proud of that girl.
Earlier in the week Rachel had the opportunity to put her smile and skills to work at a fundraiser for Variety Children's Charities of Kansas City.  I think I'll start renting her out!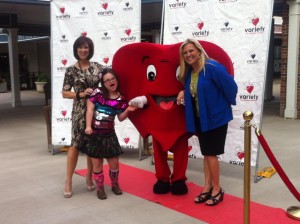 This morning on the first day of summer vacation, my daughter was up dancing at 7 am.  Her dad inquired as to why she hadn't slept later.  She responded that it was a "big babysitting day" and she had to get going.  She has her first babysitting gig for her former para a friend Ms. Stefanie and her girls later today. She packed up a Disney Princess coloring book and some crayons and colored pencils to take along. I asked her what she would do if the girls misbehaved.  Her response, "I'll go get Ms. Stefanie." I told her she was supposed to in charge. I may be able to write and sell my own version of "Adventures in Babysitting" before the summer is over.
She's also excited because we are hosting a sleepover tonight for her Sunday school class. There is no one who loves a sleepover more than Rachel and she is in full gear for the event.
Aww. It's summertime.