I really love salads especially in the summer.  I have made this a few times. It is so pretty, and both Jonathan and I love it. Rachel will eat it but she would say "not my favorite."  You can buy deli chicken to make this recipe even easier.  My trick is that when we grill, I make sure I grill a little extra chicken. I freeze it and when I want to make a salad like this, I have the chicken. I simply thaw and slice.  We often grill extra chicken that I call "taco" chicken and freeze it to use for soft tacos later.
I hope your family enjoys!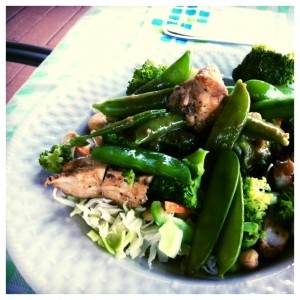 Asian Chicken Slaw
Ingredients
1 (16-ounce) bag coleslaw mix
1 pound cooked chicken (sliced)
2 cups broccoli florets, blanched
1 cup sugar snap peas
1 red or green bell pepper, thinly sliced
1/2 cup sliced green onions
1/2 cup chopped cashews (optional)
DRESSING:
1/4 cup soy sauce
2 tablespoons white vinegar
2 tablespoons smooth peanut butter
1 tablespoon sugar
2 cloves garlic, minced
1 teaspoon freshly grated ginger (I omitted this)
1/2 cup canola oil
1 tablespoon sesame oil
Instructions
1.       In a large bowl, toss together the coleslaw mix, chicken, broccoli, snap peas,  pepper, and scallions.
2.       In a medium bowl, stir the soy sauce, vinegar, peanut butter, sugar, minced garlic, and grated ginger until well blended. Slowly whisk in the canola oil and sesame oil. Season the mixture with salt and pepper to taste.
3.       Toss the salad with the dressing. Add  chopped cashews. Makes 8 servings.