You know it didn't just begin, this quest for curing Down syndrome. I am no expert but based on what I've seen in my 14 years of living with Rachel, nine months of expecting her and all those years studying the history, people have been looking for and purporting cures and such since they discovered this thing called Down syndrome. I want to be clear that I do not believe Rachel needs to be cured. I believe God created her to be just who she is.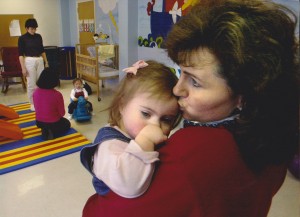 So last week when researchers at the University of Massachusetts Medical School announced that it is possible to shut down the extra chromosome that causes the developmental problems and intellectual disabilities in people with Down syndrome, there was an upsurge in the chatter. The release of this study coincided almost perfectly with the National Down Syndrome Congress convention where a few thousand families gather each year to learn about the latest research and work together so individuals with Down syndrome can live real lives. There were more than a few side conversations about the discovery ethically and in practical terms.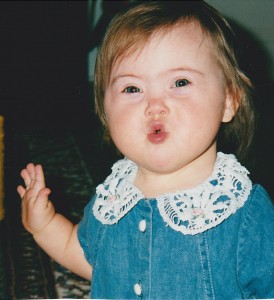 The question has been posed to me in the past.  This exert from my blog, the Kansas City Star and hundreds of speeches I have given says this: "I am not now nor will I ever be that person who says, 'I can't imagine my child without Down syndrome.'  I wouldn't change him or her if I could. I couldn't love her more, but I would give almost anything to take away that extra chromosome."  In my finite little pea brain, I never imagined that it might be possible and now you are telling me it may very well be possible so I have to really ponder the question.
My immediate answer is that I would have to have more information before I would let you suck genetic material out of Rachel. I mean she is pretty awesome.  As a mamma bear, my first inclination is that I need to know about safety.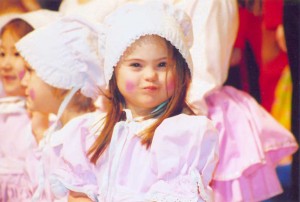 I realize there is a contingent of people out there saying "God created her this way and it is wrong to even consider this." I respect that view point but I don't think my faith is lessened by the fact that I would do almost anything to make my daughter's life better. While I may know that she is perfect like she is, the world doesn't. Right here in the good old USA, the reality is people with Down syndrome are seen as defective. They have a harder time living up to the artificial measures (grades, sports and accumulation of wealth to name a few) that we Americans use to measure success.  While Rachel does well in school, she has a ton of modifications and accommodations. I often say she works twice as hard to do half as much. Her brain has to work so hard to stay with others socially and intellectually. She rarely complains. While she has been quite healthy, many of our friends with Down syndrome  have serious health issues and some have died. I have stood beside many families as they buried their little angels.  Individuals with Down syndrome are more prone to many health problems including depression than the general population. My daughter can run down a soccer field and at the end her greatest accomplishment will be when she flashes her smile. Rachel is fiercely devoted to her friends and truly finds joy in the journey. At the end of the day that smile, that joy and that devotion is not enough to make her less than defective in the eyes of many people though. The truth is that you need look no farther than television and the movies where many people still take sport in poking fun at individuals with intellectual disabilities. I can't think of anyone who has lost their job for using the R-word lately.
If a person is born with or develops poor eyesight, then we give them glasses or perform surgery. If a person is born with partially missing limbs, we make them a prosthetic. Sometimes when a person has seizures, we remove part of the brain to stop the seizures. God created those individuals just as they are and most of us would agree that improved eyesight, prosthetic limbs and the absence of seizures is a good thing. In the same way if I could  improve Rachel's cognition I would. If taking away that extra chromosome would improve her health status, I would.
For now though, that is not an option. It may be in her lifetime. I just don't know. For now I don't want to waste much of our precious time worrying about something that may never be an option. I will study it. I will read the research and I will ask questions. I will continue to attend the NDSC Convention and other educational programs. I will continue to do my work as an National Down Syndrome Society Ambassador and advocate to improve laws and programs so individuals with Down syndrome can achieve their dreams. I will continue to share our journey in hopes that it will help another on the journey. I will continue to advocate for school, community and church inclusion. I will continue to be a mamma bear for Rachel and others with Down syndrome.
Still, I will always be able to end a blog, article or a speech with this: "Still, I know that my worldview, my faith view and my people view is richer, fuller and different because of Rachel and this journey we have embraced.  While I know that God is touching lives through her, the first life He had to mold was and is my own." 
And I will join Rachel in finding joy in the journey.