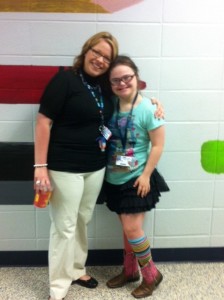 Ms. Cox has been Rachel's resource teacher for the past two years. We will miss her in 8th grade.
Yesterday I hosted Teacher's Appreciation Luncheon for Rachel's incredible team. This morning our parent group hosted our annual Teacher Appreciation Breakfast. We had way too much food and it all looked scrumptious. The teachers and other staff that were able to come seemed to really appreciate the "fixings." I know I speak on behalf of all the parents in saying that is an honor to be able to extend our thanks in this way. Our parents have all been great to pitch in and provide for special dinners and events this year.  Today, I'm sharing a couple of recipes that are popular with our teachers.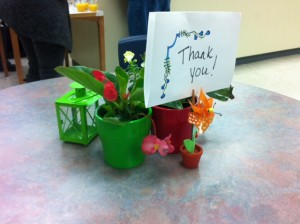 Bacon and Potato Breakfast Casserole (I did this for the brunch)
1 32-oz package Southern/country-style hash browns (cubes), completely thawed
1 12-oz. package bacon
1 1/2 c. pepper jack cheese
1 1/2 c. cheddar cheese
1 bunch green onions, chopped
3 eggs
1 c. milk*
1/2 tsp pepper
1 tsp salt
Cook bacon.  While the bacon is cooking, place the potatoes in a 9×13″ baking dish. Mix the cheeses together and sprinkle it over the potatoes. When the bacon is done cooking, drain it on a paper towel and reserve 2 tablespoons of the drippings. Cook the onions in the drippings for 2-3 minutes or until they're tender and fragrant. Spread the onions over the cheese mixture and then sprinkle everything with the crumbled bacon.  Whisk together the eggs, milk, salt, and pepper and, whisking constantly, pour the egg mixture evenly over the potato mixture.  Cover and refrigerate overnight or for 7-8 hours.
When ready to bake, preheat the oven to 350.  Bake, uncovered, for 40-45 minutes or until the cheese is bubbly but not brown. Allow to stand for 15 minutes before cutting.
The chicken enchiladas recipe is a repeat recipe but it is very popular every year and it feeds a lot!
Chicken Enchiladas
10 flour tortillas
4 chicken breasts, cooked and coarsely chopped (about two pounds)
½ stick butter/margarine
1 medium onion, chopped
1 can chopped green chilies
1 8-oz block cream cheese
1 ½ cups shredded Monterrey Jack cheese
1 ½ cups whipping cream
Salt & pepper
Sauté' onion and green chilies in butter.  Add cream cheese and stir until melted.  Stir in chicken, salt & pepper.  Spray 9 x 13 inch baking dish with non-stick spray.  Place filling in tortillas and place seam side down in baking dish.  Sprinkle cheese over and pour whipping cream over.  Bake uncovered at 350 for 30 minutes. Serves 10. Makes great leftovers and freezes well.