I have blogged about the value and really the gift of good mentors in Rachel's life.  As I prepare to cook some Thanksgiving favorites, I am reminded of one of the great role models in my own life. My seasoned readers know that I grew up in rural Arkansas. I grew up in Joy, Arkansas in the heart of White County which is located about an hour northeast of Little Rock. I usually say I am from Rose Bud because that is the school I graduated from. Then, I tell people that I am actually from Joy, a suburb of metropolitan Rose But, but we did not have a post office or a school. Trust me when I say living in Johnson County, KS is pretty different from growing up in Joy, Arkansas especially 35+ years ago. But then and now mentors and role models are essential.
The person I most often think of as my own role model is my 4-H leader. The 4-H program was my ticket to travel and to learning how to do so much of what I do now. I learned how to give speeches in 4-H. I learned how to run meetings in 4-H. I learned how to run events and ask anyone for anything.  They might say no but they might say yes. I had the opportunity to visit college campuses, meet elected officials locally and on the state and national levels. I had the opportunity to call the Hogs on the United States Capitol steps and get my picture made with the Arkansas' great Congressman John Paul Hammerschmidt. That's where I learned about grassroots advocacy. I have truly needed those skills especially these past eight years of trying to get the ABLE Act passed!  I learned to tell my story and the story of others to make change.
My own 4-H leaders were Wayne and Mae Ann. They moved to our community from another part of Arkansas and farmed. They didn't have a child our age. Their only child, a daughter, had passed away suddenly. My sister had the idea of asking them to be our 4-H leaders. No one thought they would say yes. But they did and they invested in us. The rest of the story is history. They had a son during our 4-H years and we loaded him up and took him to all our 4-H activities and events. My fundraising skills can be directly traced to them. We had pie suppers, cleaned cemeteries, unloaded grain, and hosted the Mr. & Miss Joy contest to raise money. We also did adopt-a-grandparent projects and cleaned roadside ditches. We worked hard and Mae Ann and Wayne made sure our hard work was often rewarded with fun trips to Six Flags or Silver Dollar City. Fun times.
I was and still am very close to Mae Ann and Wayne. They've been at all the important events in my life. They were some of the first people called when my baby brother died. They were there when I got married and when Rachel was born. They love Rachel and she adores them even though she rarely sees them.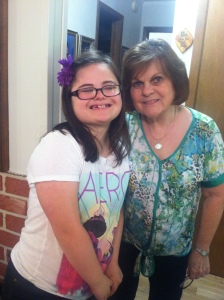 We do not get to see each other much and haven't since I left there some 35 years ago but that has never changed our love for each other. And their investment in me doesn't stop there.
So on this day before Thanksgiving 2014 I am beyond grateful for God's provision of these people in my world. My life is better because of them. I like to think that a lot of lives are better because of them, and that I have somehow paid it forward. Today, I am paying it forward by sharing one of my favorite recipes Mae Ann gave me when I was in high school. It is her Broccoli Casserole Recipe that has been our family favorite and a favorite of many of my friends since she gave it to me. I'm making it for our Thanksgiving meal. I hope you enjoy!
Broccoli Rice Casserole
3 cups cooked rice
1 10 oz package frozen broccoli spears, cooked and chopped
1 T. butter
½ cup onion, finely chopped
1 can cream of chicken-mushroom soup
1 can cheddar cheese soup (or one jar of Cheez-Whiz)
4 oz  (or more) shredded Velveeta (American not cheddar) cheese
Saute onion in butter. Add chopped broccoli and sauté together for about two minutes. Mix all ingredients (except for shredded cheese and pour into casserole dish. Top with shredded cheese. Bake at 350 degrees (covered) for 20 minutes. Remove cover and bake 10 more minutes. Serve. Easily doubled but may want to add two cans of soup for moisture).
NOTES: The original recipe calls for Cheez-Whiz. I trouble finding that so I have changed to cheddar cheese soup and have used Velveeta. I do not use frozen chopped broccoli. I have found them to be tough. I think the secret is in the sautéing the onion, butter and broccoli.