My grandmother would have been 92 today. She went to be with Jesus when Rachel was three. I can hear her singing with Him just like I could hear her singing "What a Friend We Have in Jesus" as I was walking up to her back door. My dad's parents lived across the field from us – literally. I grew up in the country and a patch of woods, a couple of fields and a creek separated our houses.  I spent many hours back and forth on the path between our houses. I spent many hours on her front porch swing. I loved to spend the night there in the winter. It would be so cold and my grandpa would put wood in the wood stove during the night and Grandmother had these flannel sheets that always felt so good.  I would wake to the smell of her gravy and biscuits and usually ham because they raised hogs.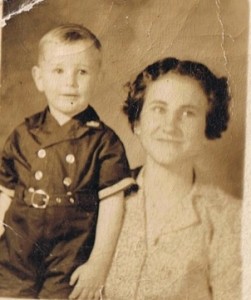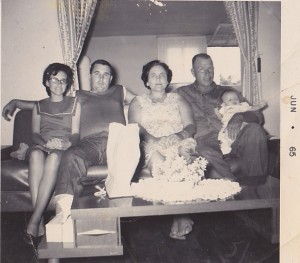 The family picture above is funny I think. It was taken in my grandmother's house and don't they all look so happy!
This is a picture of my grandmother with the quilt the ladies in the community made for me when I went away to college.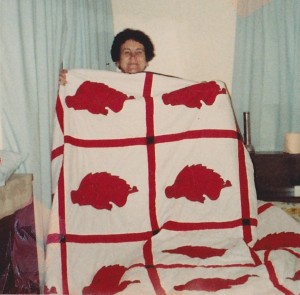 Not many people went way off to Fayetteville (four hours away).  For that matter, not many people went to college. They were so proud of that quilt and so was I.  I still have it and use it.
My grandmother was one of my 4-H leaders. She went with us to our 4-H meetings and to competitions. She worked alongside us at pie suppers, cemetery cleanings and the County Fair. We even got her to go to State 4-H O'Rama in Fayetteville and to Silver Dollar City, Six Flags over Texas and the Arch in St. Louis. She didn't care anything about riding a ride, but she loved us and would do almost anything for us. She also loved St. Louis great, Ozzie Smith!
She was fun and she was funny.  The most important thing my grandmother did was take me to church when I was a little girl.  I can still hear her singing there too. I can hear her and Dalton and Maude and Ernest and Mr. Kitts all singing "Victory in Jesus" and "When the Roll is Called up Yonder."  My grandmother never even graduated high school but she knew Jesus and she understood that was the most important thing and she made sure we knew. Eternally grateful does not being to describe my love for her.
Rachel will not remember her.  That always makes me sad because she was such an important part of my life. Grandmother did get to meet and know Rachel for a few years though and that makes me smile.  Though I have some sad tears today, mostly they are happy because I know she is having a wonderful birthday with her friend Jesus. Happy birthday Grandmother.