We just spent a few days in my hometown of Rose Bud, Arkansas. Technically, I'm from the suburb of Joy. I usually say that we didn't have a post office or a school at Joy so I just say I'm from Rose Bud. Days at home are cathartic for me. Joy, Arkansas is in White County. Agriculture is still king there. The smells of home, running into a classmate at The Rambler (restaurant in Rose Bud), a trip to the most beautiful Greers Ferry Lake all add to the nostalgia and familiarity to me. Mom's house literally overflows with cucumbers and tomatoes, and she complains about what to do with all of them. That's familiar too. Daddy reports that they've had so much rain that he has to mow every day. Mowing at his house is a considerable job.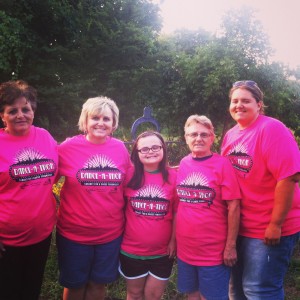 We are there to celebrate my mom's 74th birthday. We try to go every year around this time. We drive to Little Rock and visit some good friends. We spend a day on the lake with some of Jonathan's college friends – friends I've married.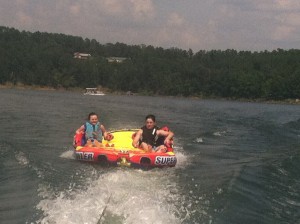 We go to the little church where I grew up, Mt. Hebron Baptist. It's not the same building but it is many of the same people. Many have gone on to be with Jesus now but I see and say hello to much of my extended family. This trip I saw my cousin Debbie. We graduated together and had a nice visit in the church aisle. Some of my wonderful 4-H friends, the House's, journey up to Rose Bud and spend a few hours. Lots of memories there. Makes me miss them a lot. My niece spends a day with us playing games with Rachel and watching Disney movies. She is 32 but loves games and Disney. She and Rachel are definitely cousins. They played the Game of Life. My niece posted on Facebook, "Rachel was an Entertainer with a $70,000 salary, she lived in a beach house with her husband and 3 daughters. She invented a new sport, discovered a new planet, but her most impressive accomplishment was becoming President!"  I'm sure the house was pink but under current laws she can't earn that $70,000 so it's a good thing she became President. Maybe she'll get the ABLE Act passed!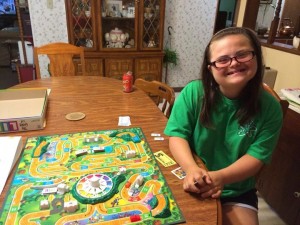 We cook mom a birthday dinner of pasta dishes. She loves pasta. My mom loves to eat everything actually. All four feet 11 inches of her loves to eat. She's like the Energizer Bunny times 100. We act silly and wear birthday hats.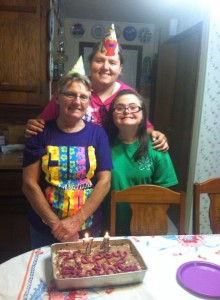 We sing happy birthday and eat a delicious cake made by me (recipe below.) I recommend not thinking about calories or fat when you eat this because it is so good. It's worth the calories for one day to celebrate the life of someone remarkable! We know we are blessed. I reflect a bit more and decide that I am going to embrace these moments because life is short. I am thankful for the gifts of my rural roots, my family, friends and life.
I am blessed.
Chocolate Mousse Ice Cream Dessert (Original Recipe found in Pillsbury's Classic Cookbook Chocolate and Other Cravings )
Crust
2 cups vanilla wafer crumbs (about 60 crackers)
1/3 cup margarine/butter melted
Filling
1 8-oz package cream cheese (I used Neufchâtel.)
2 cups powdered sugar
3 oz. unsweetened chocolate, melted
3 eggs
1/2 gallon ice cream (original recipe calls for Mint Chocolate Chip or Peppermint. I usually use mint chocolate chip but my mom doesn't really like that so I substituted a vanilla fudge swirl with miniature peanut butter cups in it. It was rich but yummy!)
Heat oven to 350 degrees.  In a small bowl, combine crust ingredients and mix well. Pres crumbs into the bottom of a 13 x 9-inch pan.  I spray my pan with non stick spray. Bake for 10 minutes or until light brown.
Meanwhile, beat cream cheese in a small bowl. Add powdered sugar and beat until smooth. Add chocolate and beat well. Add eggs 1 at a time, beating well after each addition. Pour over baked crust. Bake for 12 – 15 minutes or until center filling is set. Cool completely.
Spread softened ice cream over chocolate filling Cover and freeze for 4 hours or until firm. I froze overnight.  Let stand at room temperature for 10 minutes and cut into dessert squares. Drizzle with warm satin fudge sauce (recipe below.) Supposed to be 15 – 18 servings.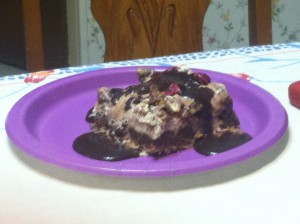 Satin Fudge Sauce
4 oz. semi-sweet chocolate, chopped
1/3 cup butter or margarine
1 1/2 cups powdered sugar
1 5-oz can evaporated milk.
1 teaspoon vanilla
In a heavy medium-sized saucepan, combine all ingredients except vanilla.  Bring mixture to a boil over medium heat, stirring constantly. Reduce heat to low; cook 5 minutes, stirring constantly.  Remove from heat and stir in vanilla. Serve over ice cream or desserts. Refrigerate leftovers.