On an annual basis I send an email to many of you reminding you of how our life changed 15 years ago today, February 5.  That day seemed so dark, and I felt a deeper devastation than I can really being to describe.  Yep, it was this day 15 years ago that my doctor called to tell me my unborn daughter who looked perfect on her ultrasound had Down syndrome.  My 34 year old husband, a picture of health and no family history of cancer, had just had a colorectal tumor removed. There will be those days. As we have this week, over the next days and weeks we found comfort and strength in our faith and in the remarkable friends and family God has put in our lives.  Blessed doesn't begin to describe our lives. We are beyond blessed. The story of our prenatal diagnosis has been written about and spoken of often. You can get get the update of that February day by reading "A Glimpse of God's Grace."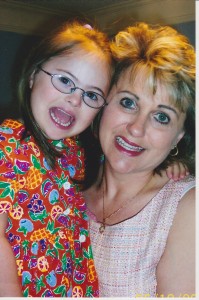 Today I want to reflect on the difference 15 years has made.  Of course, she has made a difference for Jonathan and me and our families.  But Rachel has made a difference in lives I will never know about. This week as we have searched for pictures to use in Jonathan's mom's going home celebration, I have literally looked through thousands of pictures.  I kept stopping and saying, "Honey, look at this picture. Doesn't she look cute!"  Of course I was talking about Rachel. Then I told him if you could use one word to describe Rachel's life in pictures it would be joy. Her little face and her big girl face radiate joy and she creates joy in most of those around here.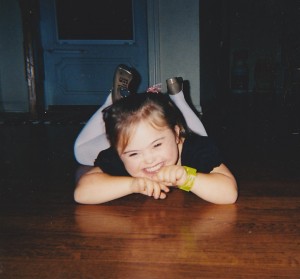 As we gear up for her 15th birthday in June, I am in disbelief that she can be turning 15 and going to high school. As I think back to 15 years ago today, I imagined all that wouldn't be. I didn't imagine the joy she would bring just because she is wonderfully, fearfully, and perfectly made.  I didn't picture the joy her sweet little voice would bring to her daddy and me. I didn't imagine that God would use her to change perceptions through things like Down syndrome walks and Just Like You – Down Syndrome. I didn't imagine that she would open doors for other kids in theater, classrooms, churches and more. But in 15 years, Rachel has taught me and others have taught me. I sure didn't imagine she would be texting me messages from her iPhone.  She got a phone for Christmas and loves to send me texts from upstairs. This morning I told her to come down to eat and she said, "My feetprints of God and coming now."  She knows that we think Steven Curtis Chapman's "Footprints of God" was written just for her.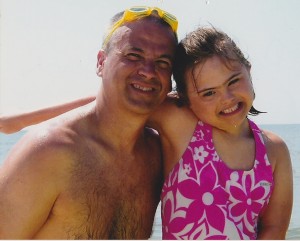 When we moved to the Kansas City area, I went by my ob-gyn's office to say good bye to him and a few others in the office. One of the people I wanted to see was the X-Ray tech.  We really bonded over ultrasounds.  As I would cry, she would lovingly pat my arm and she took great joy in watching Rachel grow over those next nine years. As I said good bye to her, we hugged and I started crying.  She started crying. Through our tears, I said "I didn't know how wonderful she would be."  Now I do. She did look perfect on her ultrasound. Enough said.