It is appropriate that Steven Curtis Chapman is one of our favorite Contemporary Christian singers. So many of his songs are the story of our own lives. It was 24 years ago today and about 100 degrees outside University Baptist Church in Fayetteveille, Arkansas at 2:37 pm that Jonathan and I became Mr. and Mrs. Jonathan Mast. Happy anniversary baby!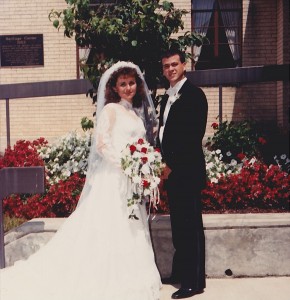 I guess none of us really knows what the next years of our journeys will look like. In spite of some valleys, I think Jonathan would agree we've been blessed beyond what we deserve.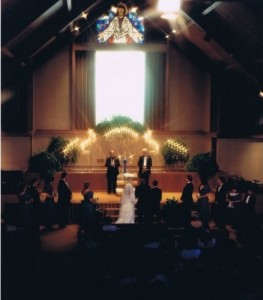 Jonathan has always had a great sense of humor and has often said "Let's do it. It will be an adventure."  Appropriate because one of our favorite songs is "The Great Adventure" by Steven Curtis Chapman and it debuted while we worked with youth at Calvary Baptist Church in Little Rock.
His song "I Will Be Here" came out in 1989.  Some of the words from the song are "Tomorrow mornin' if you wake up and the future is unclear, I will be here…..  As sure as seasons are made for change our lifetimes are made for years. So I will be here. We'll be together and I will be here."  Of course he's not just talking about being there for his wife but God will be there to shepherd us through the unclear future and the changing seasons. That's a good thing because we couldn't have done this without God's guidance.
A few of the seasons of our life have been
Moving to five cities and nine houses or apartments.
Surviving all of my non-profit jobs.
The privilege of working with many, many families at the best and worst times of their lives.
Two ACL reconstructs and few other softball injuries.
The Hogs win the NCAA Basketball Tournament April 5, 1994.  Thank you Nolan!
Church camps, marshmallow fights, capture the flag or some version of it in the dark hallways of our church.
Broken down buses and People Movers.
"Stumble and Fumble" to Tennessee in November 1998.
Surviving Jack Crow, Danny Ford, Houston Nutt, Bobby Petrino and that guy from the 2012 football season.
Deaths of grandparents and several good friends along the journey.
Lots of trips to watch the Hogs play football and basketball.
Jonathan diagnosed with cancer at the age of 34.
The prenatal diagnosis of Down syndrome for our unborn daughter.
Jonathan beating cancer and celebrating 14 years cancer free.
The great celebration of the birth of one Rachel Nicole Mast who continues to teach us how to love and live life.
Great families, lots of traveling, some fabulous and interesting church experiences, and many, many amazing friends along the journey.
I can't wait to see what "fun will find us" (Jonathan Mast quote) the next 24 years of our own Great Adventure.  Truly, our lifetimes are made for years and the seasons will continue to change. And….  I will be here.