Last week was our church camp week. I said I would blog about the week and now that the laundry is done, I will!
Rachel has a trail of folks who love her.  She  is a blessed young lady, and she is a blessing to many.  Our story is no secret.  It has been well-documented in the many speeches, workshops, talks and writings I have done.
A Glimpse of God's Grace ran as a feature story (then turned to my blog) in the Kansas City Star's Faith Walk section The occasion of my prenatal diagnosis was dark and scary. Fear gripped us. The Bible says "joy comes in the morning" and it has through the person of Rachel.
Last week at camp, the joy and the evidence of God's grace, the benefits of inclusion and the hard work it is, all came full circle for me in the relationship of Rachel and a graduating senior, Oksana.  Rachel loves older teenaged girls and makes friends with many of them. I've blogged about some of these precious young ladies who have befriended her. I have pointed out the true friendships, maternal affection, and mentoring so many of them have generously showered on Rachel.  Oksana is a beautiful, smart and talented young woman.  Oksana is headed to Vanderbilt University soon.  She invited Rachel to come and visit. She loves Rachel, and Rachel loves her.  They met in student choir at our church. Through choir, church activities, camp and more they have become buddies.
Oksana invited Rachel to come over and have pictures made with her before prom. Two princesses.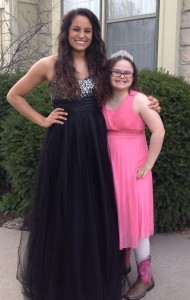 On Rachel's birthday, Oksana brought Rachel a smoothie from Robek's and a card with the most beautiful letter in it.  She spent about an hour with Rachel and her friends. The girls were in awe. When she left they said, "Can you believe that she spent that much time talking to us?  She was really interested in us."  Mentors are not overrated.  She set an example and they will pay it forward someday I suspect.
The last night of camp, Oksana came to me in tears. She said, "You and Mr. Mast are always thanking me for being Rachel's friend. BUT, I am the one who should be thanking you. Rachel has changed my life. Her heart is so pure. Her love so unconditional.  She is so precious."  By now, we were both crying. She also told her camp counselor that Rachel had changed her life.  She said that because of Rachel she now wanted to be a doctor who works with children with disabilities.
Shortly after receiving my prenatal diagnosis, a wise friend told me that God sees the tapestry when we see the strings.  Fourteen years ago I could not have imagined the tapestry:  that we would be living in Kansas, that we would have met a young lady named Oksana and that the course of her life and probably many others would be changed because of Rachel.
As I reflect on the way God's grace has come full circle in our world, I can't help but think about those people who think the world would be better without the Rachel's. The sweet sound of inclusion. The sweet gift of God's grace.