Rachel refers to my sister as "My precious Aunt Saudia." Most of you are now trying to figure out why our parents would name us names such as Saudia and Jawanda. Perplexing as it is, those are our names and we do not go by another name as people sometimes suggest.  Rachel's precious Aunt Saudia is my big sister. I like to be sure to get the big in because she will always be older than I. When she teases me about age, I remind her of this fact.  Today is her birthday so happy birthday to my big sister and Rachel's precious Aunt Saudia!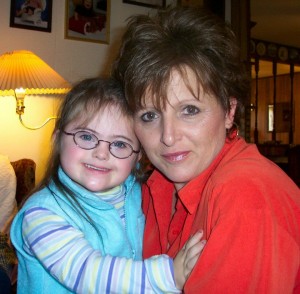 I have a great deal of evidence to support the fact that she is a good big sister.  She loves Jonathan, loves Rachel and she loves me. Enough said. Perhaps the day I needed her most was when we learned through prenatal diagnosis that Rachel had Down syndrome. I called and mumbled that I needed her to come. She came. She didn't give a lot of commentary but she supported us and loved us and that's what we needed. I am forever grateful for those and many other moments. That's what a good big sister does. Of course, she treasures Rachel and Rachel feels the same for her.
Today in honor of her birthday, I wanted to post this picture and this article. A few years ago when she was the president of the Arkansas School Office Professionals organization, she wrote an article that was primarily about Rachel. It is very encouraging, educational and really touched me!
From Saudia:
"Happy Spring everyone and Welcome to our new AAEOP members.  I would like to introduce you to the beautiful little girl in the photo (above) with me.  She is my niece, Rachel Nicole Mast.  Rachel is eight years old and lives in Bartlett, TN where she is fully included in a second grade classroom.  Rachel has Down syndrome, and, other than my own daughter, Rachel has been the single biggest impact in my life thus far. We were told even before she was born by doctors, friends and society of all of the things she could not do and would never do.  We have never focused on the things that Rachel cannot do, but, always on the things she can do.  Rachel is a blessing to us and I cannot imagine life without her.  Rachel loves to dance, plays piano, has been in several plays with the Bartlett Performing Arts, swims, plays soccer and does everything other children do.  She truly touches everyone she meets.  Famous Fisherman, Mr. Bill Dance. met Rachel in Memphis and was so taken with her that he has her pictures all over his office and included her in one of his fishing shows. Rachel loves the Hogs and has an autographed football from Darren McFadden and Felix Jones. (I am really jealous of that football!) 
If we had focused on what Rachel could not do, we would have missed out on so much, and she would not have had the opportunity to help and touch others. Wouldn't it be hard on each of us if our administrators, teachers, family, friends and communities only saw what we could not do and never noticed what we can do?   Each of us, including people with disabilities, is an individual and we all have strengths as well as weaknesses. 
 We have had several workshops recently that tell us how we can work well together because of our differences.  We are part of a team that makes a difference in the lives of our students and communities every day.  Differences are what make my theme for this year "Think Outside the Bowl" even more worthwhile to me.  Thinking outside the bowl requires a person to be willing to think past accepted concepts and perspectives, to strive for the different.
      Thinking outside the bowl simply means seeking creative ideas.  It is never easy to think outside the bowl nor is it a reflection of one's intelligence.  For a given problem, some people tend to explore solutions in the unknown world, which requires creativity, mental toughness, agility and boldness.  Often the individual is a leader in the true sense, but we do not have to be leaders to think outside the bowl.  Thinking outside the bowl requires different characteristics.  I hope the following suggestions help you to think outside the bowl:
 ¨      We must be willing to take new perspectives to day-to-day work and develop a new approach to solve problems.  Be open to new possibilities that do not conform to the conventional ideas.  Go beyond normal and look for alternative wisdom.
¨      We must explore all of our options and not settle for the first thing that comes to mind.  Look at every angle by viewing things from a clean pair of glasses. We must determine not to settle for status quo.  Strive for the unconventional ways, reach for the stars, and be unique.  Do not be afraid of people placing judgment; it's a lesson for us all.
¨      We must practice thinking opposite of what comes natural.  If we are trained to see the glass half-empty then see it half-full.
¨      We must focus on the value of finding new ideas and acting on them and strive to create value in newer ways.  We should be capable of thinking differently with an open mind, and think about stuff with substance and do things differently.
¨      We must be capable of listening to, supporting, nurturing and respecting others when they come up with new ideas.  Hear things that we have never heard before.  The opinions presented by others could lead to solutions, so listen carefully when someone is speaking.
I am so excited about the possibilities we all have in AAEOP to make a difference and find inspiration in "Thinking Outside the Bowl".
Sounds about right. Happy birthday to my Big Sister and Rachel's "precious Aunt Saudia."  Thanks for thinking out of the bowl with us and encouraging others to do the same.