I have seen a ton of recent posts about middle school fears and how to prepare. Not so long ago, I was in those same shoes facing the same fears.  I am now facing high school and have those same fears fast forwarded a few years. We have had a very positive middle school experience so I hope this will be useful to some of you.  For the purposes of this blog, please pretend you are at one of my workshops or speeches. This is part one and part two will run tomorrow.  These are in no particular order of importance.  Here we go.
Welcome. Today we are going to talk about setting the stage for a positive middle school experience.  I am going to share our story and what has worked and what hasn't worked.  I cannot tell you that this will work for you. I can only tell you it is what we have done.  I can also tell you that while this is not a research project, the path we have chosen does have a lot of research to support our choices. I will also tell you that our family has made inclusion a priority in the school, church and community settings.
First, I want to say three things:
There is no magic wand.
Inclusion is hard work. If you are looking for something easy, this probably isn't the workshop for you.
Nothing is perfect. My daughter has been educated in two different school districts in two different states. One was very difficult to work with and was not very inclined to inclusion. The other is much easier to work with and is much more pro-inclusion. However, I have had to threaten both with state complaints at one time or another to get something done. I have had to go up the "chain of command" to the district office to get things moving sometimes.  You need to determine what is most important to you and prioritize what is most important, appropriate and at the end of the day best for your child.
As we prepared and planned for middle school, these are some of the key things we addressed before we went to middle school. I've also given a brief update of how it has worked out over the course of almost three years.
     School tour & navigation.  All 5th grade students went to a middle school for a day to learn about the school. We toured the school several times without students there.  Once we were registered and the school was open, we took the opportunity to walk her schedule multiple times.

 ·      Locker. Her locker is located near the resource teacher, and Rachel has a key instead of a combination lock. She wears her key on her lanyard with her ID card. Because all students are required to have their id cards with them, most students wear lanyards so she was no different than anyone else.  A friend told me that I would regret the decision on the key.  She would lose the key, but I only had to go to the school once with a key issue.  I knew my child and knew managing a key would be much better than her fine motor skills managing a combo lock.
     Visual organizer.  Rachel wanted a pink notebook. I made a color coded grid of her classes and put in the clear lining of the notebook. This was also posted in the door of her locker.  It also had reminders about our lunch parameters, room numbers, teachers, etc.  Rachel is very visual and since the notebook traveled with her all day, it provided good visual prompts.  Her iPad has also helped with this. Rachel also has a weekly dry erase calendar in her room. Each week we put her activities on there and it helps her to be independent and prepared.

 ·      Friends in classes.  We feel it is critical to Rachel's success (not to mention good for the other students) for her to have a support system in the form of friends in her classes. This is a win-win for everyone including the teachers.  Her friends already know she will ask for help when she needs it. They know when/how to offer to help. They interpret.  The friends get the opportunity to show leadership skills too.  Several parents contacted the school and requested for their child be in her class. The counselors worked with us to be sure there was at least one student Rachel knew in each class.  This was enormously helpful.
     Lunch. I am overwhelmed by the middle school's lunch options. Line a. Line b.  A la Carte. …. So many choices.  We were afraid that Rachel might treat the entire 6th grade to ice cream and cookies on a daily basis. We were surprised. We talked through the options (multiple times) and told Rachel that she could have a la carte one day a week and a treat one day a week. We even agreed to which day she could do ala carte and a treat.  She figured out that a la carte took longer and she was tardy to class so she opted to rarely do the a la carte. She wanted to change her treat day from Friday to Wednesday so we said fine. We only had a handful of instances where she did her treat more than once a week.  Just reviewing this with Rachel and her team seemed to make it all work smoothly. This year, in 8th grade, we have used her lunch ledger as one of her math goals.
         Social development.  We worked with the social worker and speech therapists to organize a girl's group and a lunch bunch. We dropped direct speech services because we all believed that it was more important for Rachel to work on conversational speech. These conversational goals were incorporated into the girl's group and the lunch bunch. Each group was comprised of a couple of students with communication needs and a couple of typical students. They had topics and projects and Rachel looked forward to the groups.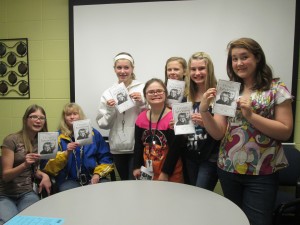 PE. Middle school students take PE every day. They change clothes every day for PE.  Rachel takes care of her own personal needs but she usually has longer than five minutes.  Rachel didn't need a para for PE itself but we started out with her having a para available if she hit a clothing issue at the beginning and end of PE.  She has worked her way out of needing a para to help with this! One of the things we did to help address this was shoes. Rachel can tie her shoes but it is a challenge. When hurried, it takes longer. Her daddy and the school social worker are both runners so they came up with the idea of the runners strings that aren't tied but just adjusted. Many students wear these so she was not much different than the other students. Rachel enjoyed PE and the teacher reported that she did well. 

     Clubs/extracurricular.  Our kids need to participate in these activities so they can feel like they are part of the school Rachel wanted to be in the clubs and we worked to determine the best clubs for her. She has been in pep club, dance club, cheer club, musical theater club and the Cupcake Club.  All things she loves. She was able to ride the bus and be a part of the pep club activities at a football game.  We did ask one of her friends to help her with her snack money because this is a bit of a challenge.  Rachel wanted to try out for cheerleader. We met with the principal and the cheer sponsor and agreed on some minor accommodations. We wanted her to go through the process like the other students. In the end, she wasn't chosen but she did her best and had a great attitude.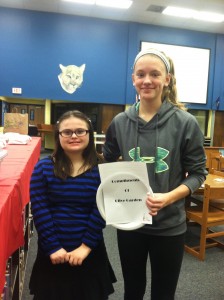 Peer Education:  Rachel in one of the teens in Just Like You – Down Syndrome and her friend Savanna attends the same school. The video wasn't show to the entire student body but it was shown by a variety of teachers during team building times. The WEB Leaders (8th student ambassadors/leaders) also watched and discussed it during their training.  
That's probably enough for today. We will pick up tomorrow with Communication.
 ·