Indulge me while I vent a little today.
It has been said "you need to know this is a mom who gets what she wants." For the past week to ten days I have been a basket of conflicting emotions and I have conflicting emotions about that statement. I know it was well-intended. I know and understand special education law fairly well. I know my daughter. I have high expectations for her. I want to have high expectations for those who work with her in various arenas, but sometimes my expectations are way to high for "those" people. I like to think I advocate for what is best and appropriate for Rachel. It's not about getting what I want.
I have some self-imposed blogging rules and without violating those, I cannot share the underlying source of my conflict today. In the past 10 days, Rachel has brought joy to hundreds of people who see her big smile and joyful heart singing in student choir in "big" church worship. I know this because they seek me out and tell me.
She made 100 on both her biology cell test and her Romeo & Juliet Act II test. Her English teacher told me this about yesterday:
"I'm super proud of her. She blew everyone away when she talked about Romeo's exile. Yep, she threw down the word exile. I love it!"
She exhibited great courage and skill in testifying before a packed room of Kansas State legislators and disability leaders last week. One piece of press coverage said, "On a day when Congressman Kevin Yoder testified before a Kansas House committee, it was a 15-year-old Olathe South High School freshman who stole the show." You can see from the picture he didn't seem to mind. He embraces Rachel's abilities.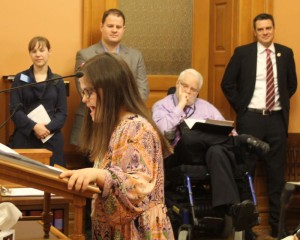 She was offered a job as a Legislative Page. Rep. Erin Davis sees her abilities.
She spent hours practicing her dance steps outside of scheduled rehearsals for Christian Youth Theater's upcoming production of Cinderella.  She is a Villager but you would think she was Cinderella. That's Rachel.
More than anything she just wants to have friends and be a part of school, extra-curricular activities, church, theater, the community. She just wants to be like everyone else. She just wants to be Just Like You.
I think Jack Bauer said something like "The sad thing is that people like me have to exist."  The sad thing is that I have to be "that" parent because more people don't see Rachel and others with disabilities for their abilities. I often say the advocacy work I do is for Rachel and those who can't, won't or don't. It is sad that I have to be "that" parent because of those who don't or won't. I'm leaving the can't out on this one.