In case you haven't noticed, I blog a lot about inclusion. I am passionate about the inclusion of individuals with Down syndrome and other disabilities.  I am not just passionate about inclusion in the education setting.  I believe in community inclusion, faith inclusion. You know I believe that "We the People" means everyone.
When we were working to pass the ABLE Act, I noticed that Rachel's school mates were retweeting my tweets. I contend that is a benefit of inclusion that many of us probably didn't consider when we were at that kindergarten IEP meetings saying 13 times "the Least Restrictive Environment for Rachel is the general education classroom and that's what we want."
Last week, I was again reminded of an unexpected benefit of inclusion. Since moving here almost nine years ago, Rachel has been involved in Christian Youth Theater Kansas City (CYTKC). We are so grateful for CYTKC.  Many of our dearest friends are from our CYTKC world. Many of the families have been supportive of Rachel and our family and some have even been a part of advocacy efforts. One of our sweet CYTKC friends and his family have taken a particular interest in our #SaveMedicaid efforts. Then Saturday morning I saw Nick post this: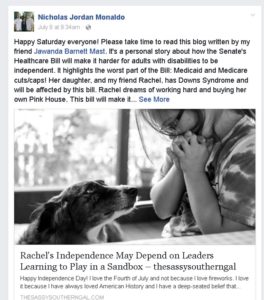 Then, Rachel's sweet friend and mentor Katelyn re-posted this-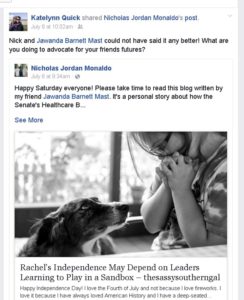 Then, Julie Ewing who has directed Rachel in four or five shows re-posted this –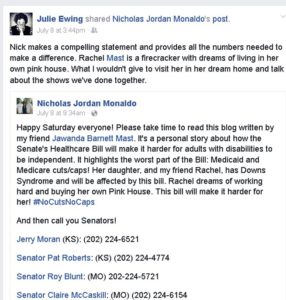 Other theatre friends re-posted and commented and thanked and started paying attention.
Then last night, one of our favorite teachers posted this: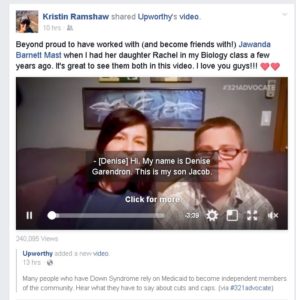 Ms. Ramshaw is one of our favorite teachers and should be teaching other teachers how to meaningfully include students with disabilities.  I know you need one more thing to do, Ms. Ramshaw!  Read a little more about her here – Rachel's Grade A Freshman Year.
To steal my daughter's favorite quote, these posts make my heart happy and my eyes teary.
Aah, more unexpected benefits of inclusion.  Now, let's #SaveMedicaid. #NoCapsNoCuts