This past weekend Rachel had the opportunity to participate in program full of stars!  It was unique because it wasn't the usual stars.  It was the Variety Children's Charities of Kansas City first Inclusive Theater Camp. I would call it a mini-camp. One of the goals was to allow all the participants to feel like stars.  Variety has been in Kansas City for 80 years! Variety chapters are called "tents" and they exist around the country. As far as I know they all do something for or with students with special needs. While the local Variety group works to provide for the needs of individuals ages newborn to 21 with intellectual and physical disabilities, a primary focus for the local chapter has been to assist with mobility issues. Many families have received assistance for the purchase of specialized equipment such as power wheelchairs and bicycles.  Variety's leadership recognized that these children and their families need the opportunity to do the same things as other families. Sometimes they even get to do a little something extra like trips to Royals games and the opportunity to meet players.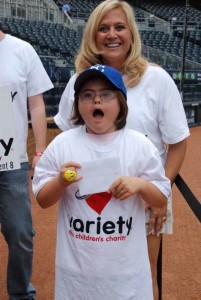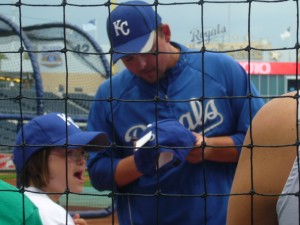 We were involved with Variety in Memphis.  Since moving to the Kansas City area we've gotten to know some of the Variety leadership and Rachel has had the opportunity to participate in some fundraisers and outings.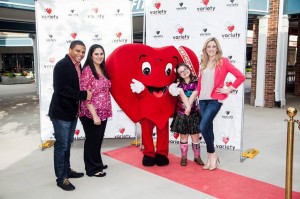 It is always very humbling for me.  Rachel has intelligible speech and does not have mobility issues so our options are far different than many of the other Variety families we meet.  Some of the families have shared with me about their children. Some know that their children won't live long. Their children who are cognitively on target but their muscles are attacked by disease and conditions. Others have children who don't talk. Their opportunities and options are different than ours.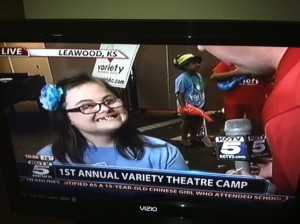 During the camp l was interviewed by Channel 5 KC.  I stated that often children with intellectual and physical disabilities are not invited to participate in community activities such as theater in typical environments. Even when they are – sometimes these children and their needs are so misunderstood that it just doesn't work. Rachel has had many opportunities to be a star but as I sat and watched the finale, I was reminded that most of these children had not had that same opportunity for whatever the reason. I didn't just watch the children though. I watched their "buddies".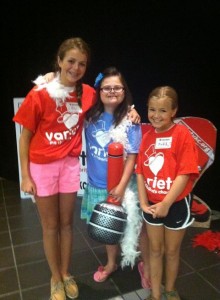 The buddies were typical kids recruited by Variety and the theater groups who worked on the camp, Spinning Tree Theatre and Stage Right Performing Arts.  The buddies were amazing in their own right.  They seemed to know how to just be a friend and helped the students as needed. Several of them said at the cast party that they had learned so much and wanted to do it again. 
What caught my attention the most was the families. I have seen Rachel on stage – a lot!  Several if the directors told me that Rachel was a leader.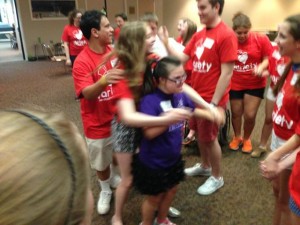 So this was her opportunity to demonstrate that – even if her motivation was to be sure everyone got their pizza! This was a first for many of these families.  The bright smiles and affection told the story as they saw their children as Stars on the Main Stage for the very first time. The love and devotion in their faces will last me for a long time. 
I am so proud that we were included in this inaugural Variety theater camp. What a great way to celebrate 80 years of serving kids with special needs. Thanks Variety for allowing us to be a part. You are stars to us and many other today!