Six years ago about now I curled up in the fetal position on the floor of an office in Memphis, TN. I sobbed. My heart ached. Even now as I write this I tear up thinking about it. It was reminiscent of the moments after I received the prenatal diagnosis that Rachel had Down syndrome. It was an older office and not even in the high dollar part of town. It was crowded with hand-me down furniture. It was crowded with memories. Even though the Down Syndrome Association of Memphis and the Mid-South had only had this donated space for a few years, it represented the past nine years of our lives. I knew leaving that space as the first paid staff member, the first Executive Director of the organization would be gut wrenching so I planned my departure accordingly. I wanted to be alone with my pain.
This week the Summer Disability Blog Hop lands on Comforts and Connections. You may be thinking that paragraph is not very comforting, but it represents my comfort and where I feel connected. It represents my war buddies. The term war buddies was coined by my precious friend Leanna. Leanna and Shawn were our very best friends when we lived in Arizona. Neither of us had kids then. We taught youth Sunday school together and had a ton of fun. The occasion of my departure from Memphis wasn't a bad thing. My husband had landed a great job in the Kansas City area. By all accounts the area had a great quality of life, great schools and opportunities. This has all proven to be true. It has been a good move for our family. It wasn't about that. Still, in 19 years of marriage and five re-locations, why was this move so hard for me? My friend Leanna said, "You are leaving your war buddies. You cannot recreate what you have been through with this group of people. No one else will understand in quite the same way. You have lots of friends. You will make new friends but these are your war buddies." I realized she was right.
Children give you a different kind of connection to people. Having a child with a disability births you into another club. I met my friend Becky at Special Kids and Families. I can still remember it. Rachel was about a week and Ben was not yet three weeks old. We were there to start this thing called early intervention. Becky was rocking Ben. I was struck by how pretty she was and she seemed like a nice person. I had been praying for God to send me a new friend – someone who was walking this journey. I didn't want to be too picky but someone with baby with Down syndrome who was a Jesus follower would be nice. I went home and called to inquire about her. Ruth, the intake coordinator, told me Becky had already inquired about me. We lived within 10 minutes of each other. A lifelong, eternal friendship was born. We served on the board of Special Kids together, worked to try to make systems change to education, and carpooled Ben and Rachel to all kinds of things. We even wore camouflage and ate wild game to raise money to support our program. We still talk weekly and often several times in a week. We are connected and we bring each other comfort.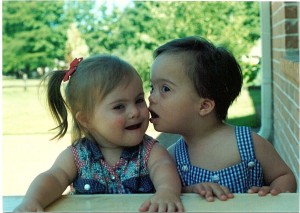 Shift gears to the Buddy Walk. Our organization was the true description of a mom and pop non-profit. Lots of good people trying to build an organization and the tool used to get there was the Buddy Walk. By serving alongside amazing people and then assuming leadership for the walk and working with more amazing people, we built a sisterhood. I say sisterhood because it was mostly women. We had many great husbands who made it possible too but we were the ones in the trenches. In the beginning there was very little money and no space for our organization. By the time we found our donated space we were operating the organization and the Buddy Walk out of two houses across the county from each other. We sorted over 3,000 shirts in a home. We did have a small storage room in the back office of a check cashing business. It wasn't big enough for the stockpile of goods we had so my garage became Buddy Walk central. We would meet in parking lots to trade-off the goods that had been collected and needed swapped for an event. We worked hard, cried some and laughed a lot. We built something together and when you work together for something you believe in you build a connection.
Then, we had enough money to do better programs and have nice materials and even have a strategic plan. Someone had donated office space and that started out simply as a spot to operate our Buddy Walk. Eventually, we hired some staff. It could truly be called the incredible journey. It was truly a labor of love. Building the Buddy Walk together created connections but we also had an organization to build to try to meet the needs of families in a three state area. Like most groups we were doing this simultaneously.
It was hard and everything wasn't always smooth but we manged to build something good and strong for families. We managed to build a well-respected organization. Along this journey, I had the honor of being a part of people's lives at the best and worst of times. In one year, we lost four babies to heart problems. Nothing in life prepared me for standing with those families but I did it because that's what I was called to do. Nothing prepared me for Lori Siegal or speaking at her funeral when she died of a heart problem at the age of 25.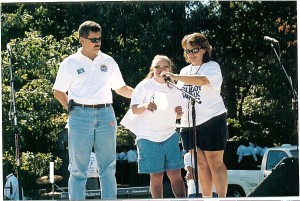 What an honor to be the first person to get to say congratulations to the family of a newborn newly diagnosed with Down syndrome who is afraid because they don't know what the future holds. What an honor to have the opportunity to give someone factual, up-to-date, unbiased information as they wait for the results of their amnio. What an honor to speak on behalf of people with Down syndrome to doctors, nurses and future teachers. So, so many connections were made. And in working side by side for something so much bigger than any of us individually, we felt comfort or at least I did.
I wrote a blog awhile back that says what I would say 14 years later. One of the things I would say to anyone is to find a support system with real live people. Facebook and social media outlets are nice but try to find some real people who have walked or are walking in your shoes. We are all different and not everyone wants to build a walk or an organization. In building a walk and an organization, I found comforts and connections. There is nothing that feels quite like it. We are all creatures created differently with different needs, wants and motivators.
While I have found many new friends who I love and I love to be able to see precious faces on Facebook, connect with families and meet them at conventions, I do still miss my war buddies. I think of them often and fondly. And you know who you are.