World Down Syndrome Day  is recognized every year on March 21 or 3-21 because Down syndrome is created when a person has three copies of the 21st chromosome.  People and organizations around the globe will celebrate the lives of individuals with Down syndrome.
We are so excited to honor Rachel's friend, mentor, volleyball coach and case manager Lauren Fitzgerald as a 2017 World Down Syndrome Day Champion.  We had the opportunity to honor her in an even more special way because of an award recognition program started by the Down Syndrome Guild of Greater Kansas City (KCDSG.) I don't know how many years they've been doing it now, but you can nominate someone who their commitment to supporting individual with Down syndrome and making a meaningful difference.  These champions are recognized out in the community. The recipients receive much deserved recognition, and ideally an audience learns a little more about Down syndrome and the significance of World Down Syndrome Day #WDSD17. It is an awesome way to celebrate! On March 21, watch social media for their video montage of champions.
This year, we nominated Ms. Fitz.  She was surprised when a representative from the KCDSG showed up with a gift card and certificate.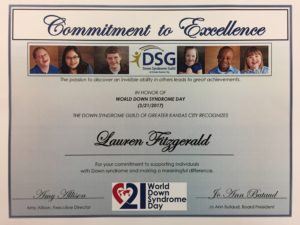 Students, leadership from both Olathe South and the Olathe School District, her husband, colleagues and of course Rachel were on hand to celebrate Ms. Fitz. Of course, there were balloons and cupcakes, too.  The award is much deserved. Our entire family appreciates all Ms. Fitz has done for Rachel in and out of school.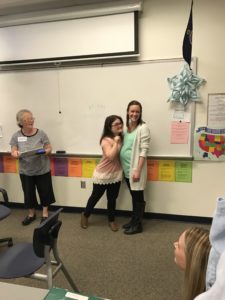 Some exerts from our nomination:
Ms. Fitzgerald shares our high expectations for Rachel. She sees her abilities as evidenced through her insight for inviting her to be the girls volleyball manager. She said that she knew this would give Rachel a built-in group from the beginning. Rachel takes her role very seriously and Ms. Fitzgerald is amazing with her. She allows her to give pep talks but also holds Rachel accountable for doing what she is supposed to do in the role. Ms. Fitzgerald got married a couple of years ago and Rachel and Rachel was one of the students invited to the wedding. Ms. Fitz and her husband try to come out and support Rachel and other students in community activities like soccer, she organized a group of teachers and support personnel to come see Rachel in a play. This meant the world to Rachel but more importantly, it provided another window into community integration for these individuals. Rachel is in general education classes and she has quite a few modifications and accommodations. Ms. Fitz is the intermediary with the teachers and she is always calm and always works to find out-of-the-box solutions.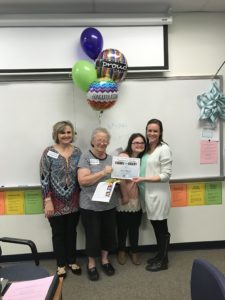 There are just so many reasons Ms. Fitzgerald deserves this award. In addition to being Rachel's teacher, case manager, mentor, friend and the volleyball coach, she is the special education department head at Olathe South. She "gets it." What I mean by that is that she understands the importance of community and school integration. She understands that sometimes it just means you need to think out of the box a little and everyone can participate. She invited Rachel to her wedding and it made Rachel feel so special when her family members wanted pictures with Rachel because they had heard so much about her. A text from another mom is a great way to illustrate how awesome she is. My friend's daughter is on another school's volleyball team. She was at a tournament that I did not attend. I got a text from her with a picture of Rachel giving one of her pep talks. She said,"That coach is really good with Rachel, and Rachel is good for those girls." Enough said.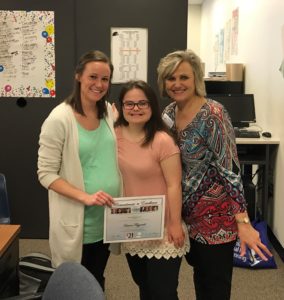 Congratulations and thank you Ms. Fitz!

#WDSD17