We work in the student ministry at our church. A few years back some of the seniors said one of their sources of pressure was everyone asking what they were going to do. Historically, this is a fairly common question for high school seniors and no one was asking in a judgmental way.  People are curious and want to celebrate with you.  The students were not hearing it that way.
In my circles of late, the million dollar question is "What is Rachel going to do next year?"  I say million dollar because a lot of people have been asking and it has caused me to reflect on the now understandable feelings of senior students!  Our standard answer is "We have more questions than answers right now." Some people understand what that means. Others don't and press on with a "How so?"  Then, they get an entire dissertation about post-secondary education programs for students with intellectual disabilities, the program differences, philosophical differences, Rachel's vision and ours. We also have to add in some commentary about the Medicaid Waiver and support services. Then, there is vocational rehab and that nagging little issue of money. By now most people are numb or lulled into boredom wondering why on earth they asked in the first place. Those who manage to overcome the boredom and complication of the situation, then say "But we know YOU, Jawanda. You have something in the back of your mind. Right?"  Well, maybe, uh not really.  I then say that we are going to enjoy this year and not become overwhelmed with all of this in the process of getting to the end of the year. One thing I have been learning from Rachel all these years is that there is joy in the journey.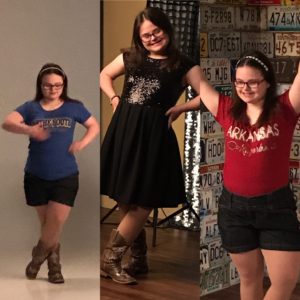 Rachel is a very busy senior girl.  In addition to her classes, she is
in her fourth year as one of the volleyball managers
hoping to be cast in at least one of Olathe South's Theatre productions this year either in a cast or on crew
on the board of Inclusion Connections
part of a very active senior class taking on new leadership responsibilities in our church
still advocating for policies that benefit individuals with Down syndrome
a board member at Inclusion Connections
participating in some classes at Inclusion Connections
a STUCO member
a National Honor Society member
a Thespian Troop 5006 member
planning to dance, dance, dance her way through her senior year
We have decided you only get to be a senior girl once so we are all go to enjoy this year, Rachel and her parents, too. We are not going to be so anxious about what comes next that we don't enjoy what God has given us to enjoy now. With that said, God did give us brains to think. We have visited some programs, are visiting others in coming months and are considering her options. I said we because it is our entire family with input for those who know and love Rachel.
You may or may not know that a relatively new option for students with intellectually disabilities is Post-Secondary Programs for Students with Intellectual Disabilities (known as TPSE for Transition to Post-Secondary Education*) on college campuses. There are over 250 programs around the country and more popping up all the time. All families are different in their needs, values and objectives so this gives you options because all of the programs are different. Like all other students making such decisions there are also financial considerations. We get to add some issues like government supports such as the Medicaid Waiver to the mix.  When you move to a different state you go to the bottom of the waiting list for Medicaid Waiver services in that state so you could be looking at 10+ years for supports such as job coaches, personal care assistance, transportation, and other independent living supports.
Rachel is very much like every other 18 year-old, and she wants to go to college.  For our family, we want Rachel to go to a school where she can live on campus, be safe, continue to learn skills  that will help her to be independent, participate in job training and internships that will help her find full-time, competitive, meaningful employment. In other words, she doesn't have the luxury of just having a "college experience" for the fun of it. Though I do not have the sources, I have been told by numerous experts that one of the strong outcomes from TPSE programs is high job placement rates. This is important when you consider that an alarming 70% of people with ID are not employed in meaningful , competitive employment. This is BIG for us!
Right now Rachel has several options to consider.
Vanderbilt Next Steps program is amazing. They do an outstanding job and are working to roll out the on-campus piece of the program. They have some great ideas for the future and have been around awhile so they have worked out many of the bumps. She had the opportunity to spend the night on campus while were there because he dear friend Oksana attended Vanderbilt. She was very impressed with the food options and the ease of finding milkshakes.  When we visited this program, Rachel declared that she was a #futureVandygirl.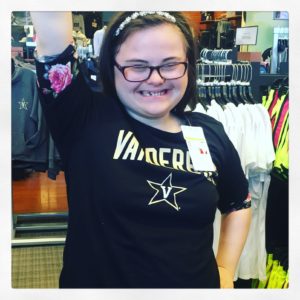 She had the opportunity to visit the University of Kansas program open house last fall.  She loved the talk of dorms and has become a Jayhawk fan since moving to Kansas in 3rd grade. (Thank you Marci.) There is a lot to desire about KU's program. It is close to our home – about 40 minutes.  They have a strong emphasis on inclusion and jobs. On-campus housing is now an option. After visiting that open house, Rachel declared that she was #RockChalkRachel.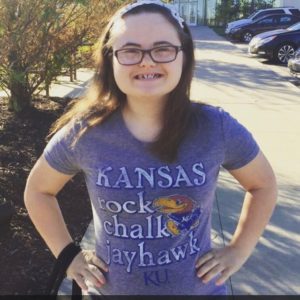 The University of Arkansas Empower program just rolled out in the past few weeks.  Because her daddy and I are alums and because of some of my connections in the larger Down syndrome community, we had the opportunity to go down and meet with their steering committee last year.  We were very impressed with all they had done and were honored to be able to share a little bit about our adventures in visiting other programs and Rachel's dreams. They will have on-campus housing available next year. They have a strong emphasis on jobs, and it is an inclusive program.  Rachel also had the opportunity to participate in an official campus visit. She had so much fun, was treated just like the other students, and loved the dorm rooms and the cafeteria. The fact that one of the majorettes was our campus tour guide didn't hurt.  She has been going to Razorback games since she was a tiny little thing. After her official visit there, she declared "I am going to Arkansas." She also envisions herself as a cheerleader or pom pom girl.  This is one of the things she didn't get to be a part of as a high school student.  Of course, her daddy and I love all things Razorback so there's that.  She then proclaimed #thislittlepigsgoingtoArkansas and #wpsisstronginthisone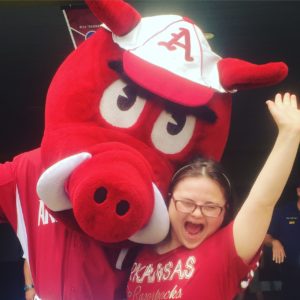 Are you seeing a pattern here?
Over the summer, I visited the University of Missouri at Kansas City Propel program and was quite impressed. We have scheduled a fall visit there. They have a lot going for them because they are very close to us geographically, have on-campus housing starting this semester and they are an inclusive program. Though only in their second year, they also get a large number of applicants for the spots they offer.  After the visit, we'll see if Rachel's pattern holds.
In one of Rachel's classes this year, they are learning a lot about college, applications, jobs, resumes and such.  Specifically, they are learning about what is offered at Johnson County Community College. This is a local community college with an excellent reputation. Many students including a lot of Rachel's friends attend there and live at home the first year or two out of high school. This gives students the opportunity to kind of figure out what they want to do, it is inexpensive,  you can live at home and save some money. If she exercised this option, she could work part-time, do some volunteer work and consistently work on some of those independently living skills she will need to live in a dorm independently.  Up until about two weeks ago, she looked at me like I was from the movie "Alien" when I mentioned this option.  Full disclosure here, I did prompt some of her buddies to tell her about their experience doing this.  Then, one day a few weeks back the optometrist mentioned his son had gone to JCCC and was now at KU. She said as nonchalantly as anything,"I think that's what I will do. I can go there a year and work as a hostess at The Cheesecake Factory or the Olive Garden. Then, I'm going to Arkansas."
Back to the original question, "What will Rachel do next year?" I'm not sure. We have more questions than answers still. And we have options. Many options.  The other night Jonathan said, "Eighteen years ago I couldn't imagine we would have options. Options feel good. "  I'll keep you posted on Rachel's trending hashtags.  Today's might be #optionsaregood or #highexpectationsresultinoptions  or maybe
#justagirldancingthrumysenioryear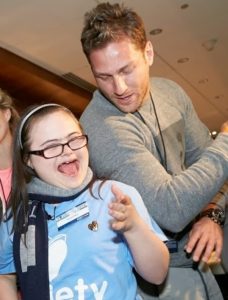 *Learn more about Transition to Post-Secondary Education programs for students with Intellectual Disabilities at Think College.