Earlier this week we visited the Next Steps Program at Vanderbilt University. Baby Rachel, as some of you know her, is "almost 17" and graduation is just two years away.  She has been planning her college road trip for years. The Next Steps Program at Vanderbilt is a post secondary program designed for students with intellectual disabilities.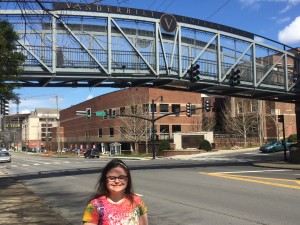 Touring a college campus, Rachel staying overnight with her friend Oksana who attends Vanderbilt and stopping by the bookstore to buy  this Vanderbilt shirt,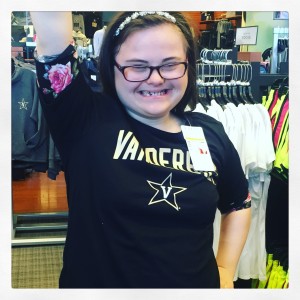 I couldn't help to think back to 17 years ago. Seventeen years ago through prenatal diagnosis we knew Baby Rachel had Down syndrome. I remember one of my thoughts when I learned she had Down syndrome was that she wouldn't be able to attend our beloved University of Arkansas. In those early months there were many things we didn't know. But we have learned and because of the efforts of other leaders, parents and self-advocates, Rachel has many opportunities including a chance to attend college.
I want to stop and thank Stephanie Lee and her daughter Laura for their work in this area. That seems more than appropriate. Stephanie has been a leader in the area of post-secondary education for students with disabilities. Her greatest teacher was her daughter Laura who graduated from George Mason University. A few weeks ago Laura passed away suddenly and unexpectedly. Today, they will celebrate her life. Some of you who are reading this have never heard her name but your children have more opportunities because of her. You can read a lovely tribute to her life at this link from the Washington Post – Laura Lee Inspired
We  had a great visit at Vanderbilt and the Next Steps Program. They are expanding to a four-year residential program which is very appealing to us. It seems to be a balanced program with strong leadership and thoughtful planning.  Rachel professed her love for all things Vanderbilt. It was fun for her and us.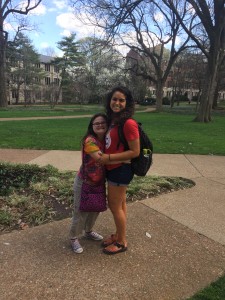 The University of Arkansas does have an affiliated program for students with intellectual disabilities called Project Launch. I learned about that in my alumni magazine a few years ago, and you can imagine my excitement! Project Launch will be on our college road trip stops over the next few years. We are just starting this process, and I honestly don't know where she will choose. People asked how we feel about her going somewhere besides Arkansas, and both Jonathan say we want her to be happy and if that is somewhere besides Arkansas, that will be okay with  us. I can promise you that 17 years ago I never dreamed any child I might have would have the opportunity to attend Vanderbilit University though!
We had a packed few days in Nashville visiting friends, a speaking engagement, Rachel's night in the dorm and visiting the Next Steps program. Rachel always has some self-talk sessions to process. These are usually in the privacy of her room or her girl cave or the bathroom. I learn a lot by listening. When we arrived home Wednesday, she went straight to her room and sat down by Baby Sally and Marisol and began telling them about all the things that we had done. I couldn't help but think "Wonder if Baby Sally will have to pay tuition at Vanderbilt?"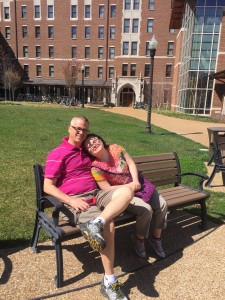 ThinkCollege is an online resource for learning about some of the Post-Secondary programs for students with intellectual disabilities.